You're Invited: Lunch Meeting for HBO film "Gideon's Army"

Wednesday, May 22, 2013 from 11:30 AM to 4:00 PM (EDT)
Registration Information
This event is invite-only
You need an invitation to register for this event.
Contact the host
to find out more.
Event Details
We invite you to join Active Voice, Spitfire Strategies, Borderline Media and Director Dawn Porter on Wednesday, May 22, 2013, from 11:30-4:00pm in Washington, DC, for a screening and strategic planning meeting for the HBO documentary Gideon's Army.

Gideon's Army follows the story of three young, idealistic public defenders in the Deep South who struggle against long hours, low pay and staggering caseloads to ensure justice is served for the people society would rather forget. The purpose of the meeting will be to engage a hand-picked group of experts to devise actionable strategies on how we can collectively broaden the public discourse on the critical role public defense plays across multiple sectors of our society.
The meeting will begin with lunch and introductions, followed by a screening of the film. Immediately following, we will lead the group in a structured discussion to explore how the film, as part of a broader Ford Foundation-sponsored engagement campaign, can support coalition-building across sectors, inform state-based reform measures and deepen youth and civic engagement on a cross-section of issue areas, including public defense, student loan debt, drug policy, civil rights and legal education, among others.
You will be joined by other experts in the fields of law, civil rights, ethnic media, philanthropy, civic engagement, youth organizing, government and legal education in what we expect will be a very lively and informative conversation. Given your commitment to these issues, we hope you can attend and offer insights on how this film might best align itself with your work.
As we are keeping the meeting deliberately small, please RSVP by Wednesday, May 15th if you are able to attend, along with any dietary restrictions. In the meantime, feel free to contact us with any questions.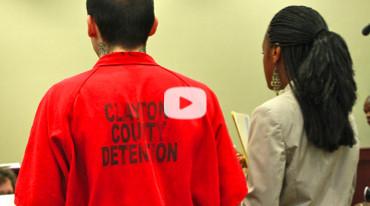 Click image to view the trailer

Background on the Issue
More than 7 million Americans are either in jail, on probation or on parole. With the law providing that the accused have a right to a lawyer, and by implication a day in court, the United States criminal justice system is struggling to keep up. Today, with more prisoners than any other nation, criminal justice in the United States is in crisis. The burden is seen in the workload of the lawyers representing the accused. Overworked and underpaid, even the criminal defense lawyers who want to provide competent defense struggle to keep up. We may never know how many innocent prisoners are swept away in the tidal wave of cases coursing through the criminal process. If the innocent are convicted, the guilty are not brought to justice; and the public loses faith in the fairness and competency of the criminal justice system.  What kind of lawyer would choose a career defending poor people accused of terrible acts? We will meet them.
Attendee List
Sort by:

Date

|

First Name

|

Last Name
Organizer
Active Voice are communications strategists who harness the power of film, television and multimedia to spark social change. http://activevoice.net
Spitfire Strategies is a national consulting firm offering nonprofits and foundations top-notch strategic communications and campaign planning, training, counsel and tools to make a real impact. http://www.spitfirestrategies.com
Borderline Media helps content producers maximize their media to inspire civic participation, social action and impact. http://borderlinemedia.net
The "Gideon at 50" national engagement campaign is an initiative of the Ford Foundation. Visit us at Gideonat50.org