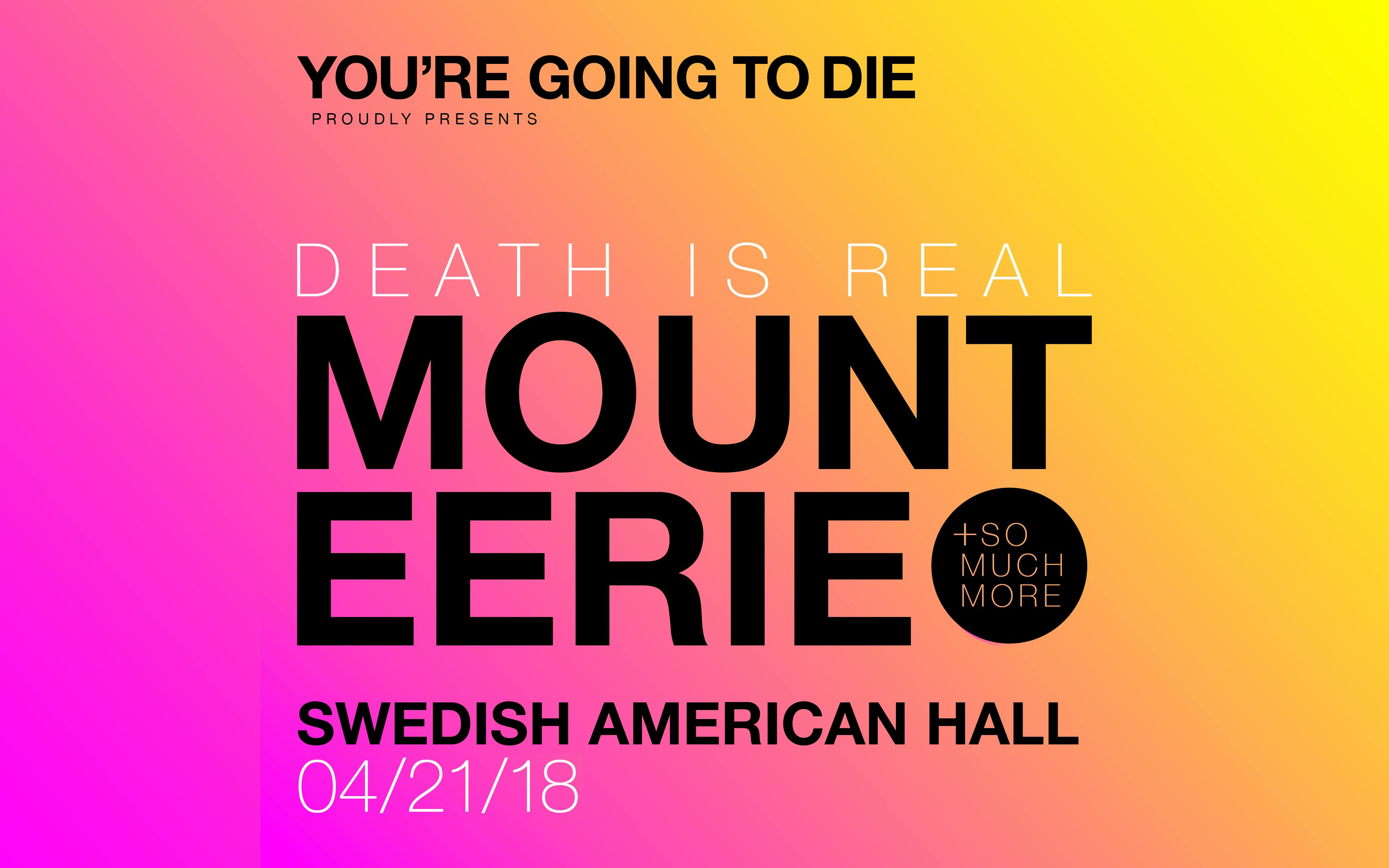 About this Event
Show starts at 7:30pm
As part of Reimagine End of Life, You're Going to Die offers another curated entertainment experience proudly presenting great artists as they deserve to be presented: in the concert context of acknowledging their brilliant beaming mortal magic. YG2D Presents curated shows steeped in the context of mortality, showcasing inspiringly enlivening musical acts with movingly entertaining spoken word.
On Saturday, April 21st, YG2D Presents... Death is Real w/ Mount Eerie. In 2015 Phil Elverum's wife, the French Canadian cartoonist & musician Geneviève Castrée, was diagnosed with cancer just after giving birth to their first child. She died a year later. Elverum wrote & recorded his Mount Eerie album "A Crow Looked At Me" throughout the fall of 2016 in the same room where Geneviève died, using mostly her instruments; her guitar, her bass, her pick, her amp, her old family accordion, writing the words on her paper. The songs are about the brutal details of that experience, from the hospitalizations to the grieving, the specific domestic banalities that become existential in the context of such huge & abrupt loss. These songs are devastating in their straightforward vulnerability. They are pretty & they are deep, & they find a love that prevails beneath the overwhelming & real sorrow. It is unlike anything else in the Mount Eerie catalog in its unvarnished expressions of personal grief, metaphor-free.
YG2D Presents Dr. Michael Fratkin...
Father, husband, brother, son, and physician, Dr. Fratkin is dedicated to the well being of his community. Since completing his training, he has made his home and built his family in rural Northern California. He has served his community in primary care in a community clinic system, as a medical director of our local hospice, as a leader in the community hospital medical staff, and a transformative voice for improving the experience of people facing the end of life.
YG2D Presents Scott Ferreter...
Scott is a musician with a passionate belief that human beings are beautiful, & that they need not hide from their weaknesses & shortcomings, but celebrate themselves in full. A set of his music ranges from lighthearted & humorous to tragic & tearful, sometimes within the same song. His most recent release is "See You In The Morning Light," a cathartic album 4-years in the making that tells the story of losing his father to stomach cancer & discovering the shimmering beauty of being alive.
YG2D Presents Pablo Il Postino...
Pablo is a musician from Sacramento. His songs take on many different styles but tend to be consistent in their theme of reflecting on the mystery and endless comedy of life at both its most ecstatic and most profoundly tragic.