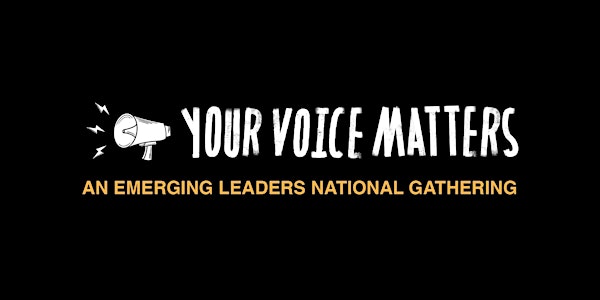 YOUR VOICE MATTERS! Emerging Leaders National Gathering
This gathering is to equip, celebrate, and empower the next generation of leaders. Your voice matters.
When and where
Location
Forerunner Church 12444 Grandview Road Grandview, MO 64030
Refund Policy
Contact the organizer to request a refund.
Eventbrite's fee is nonrefundable.
About this event
We are in a time of the greatest opportunity for the gospel alongside great challenges confronting this generation. This gathering is to equip, celebrate, and empower the next generation of leaders to find your voice in Jesus' movement and prepare for the one billion soul harvest.
We will focus on what the Holy Spirit is saying and doing right now as well as training in practical leadership tools needed for the task ahead. Jesus' leadership model also involves a profound collaboration and authentic friendship among leaders in order to fulfill his plan. Join us as we come together.
Speakers and worship: Upper Room Worship, Michael and Lorisa Miller, Mike Bickle, Corey Russell, David Bradshaw, Jonathan Tremaine Thomas, Thai Lam, Brian Barcelona, Marcela Barcelona, Niko Peele, Billy Humphrey, ATD worship, and many more.
Breakouts and teaching topics include: University Campus Revival, Social Media Influencers and the Gospel, Building Prophetic Worship Culture, Pioneering Missions, Finding Your Voice, Leading Presence-Centered Communities, Leading High School Movements, Jesus is Justice: Racism, Healing, and Justice, Understanding the Return of Jesus, Leadership Training Track, and more.
Schedule
Thursday, 9/23
*Day sessions at IHOP University and evening sessions at Forerunner Church*
6pm - Main session at Forerunner Church with Brenton Dowdy, David Bradshaw, Lou Engle, Scott Bradshaw, Aaron Custalow, Chris Jones, Alexi Markou, and more!
Friday 9/24
1-5pm - Sacred Assembly and Worship at IHOPU with The Well, Lou Engle, David Bradshaw, and more!
6pm - Main session at Forerunner Church with Upperroom Worship, Mike Bickle, and David Bradshaw
Saturday 9/25
9am - Main session at IHOPU with ATD Worship and Michael Miller
1pm - Main session at IHOPU with JT Thomas
2:30pm - Breakout Sessions (at IHOPU)
3:45pm - Breakout Sessions (at IHOPU)
6pm - Main session at Forerunner Church with ATD Worship, Gen Z for Jesus, Brian Barcelona, and Corey Russell
Forerunner Church is located at 12444 Grandview Rd, Grandview, MO 64030
IHOPU is located at 12905 S U.S. 71 Hwy, Grandview, MO 64030
FAQ
What age is this gathering for? ALL AGES are welcome! The focus of this gathering is empowering, celebrating, and training the next generation of leaders for the billion soul harvest. This requires fathers and mothers AND sons and daughters!
Is there a cost to attend? Registration is required due to limited space, but there is not a set fee to attend. A donation to cover all costs for the gathering and to sow into the ministries coming to serve is kindly requested and can be given upon registration!
Is this gathering in a tent? ATD usually gathers in tents and we know this! This gathering is going to be indoors at the IHOPKC missions base. We are so grateful to partner with IHOPKC in this way and we believe this is a God-soaked moment of convergence and partnership!
Donations
This event is dependent upon donations from our attendees. We need your help to rally this emerging generation of leaders. Registration is free, but we've also given the opportunity for you to donate when you get your tickets. Register today, and pay whatever you can at checkout. We're grateful for your generocity and support!