Y(OUR) STORY Luncheon & Storytelling Workshop: Mental Health Awareness
About this Event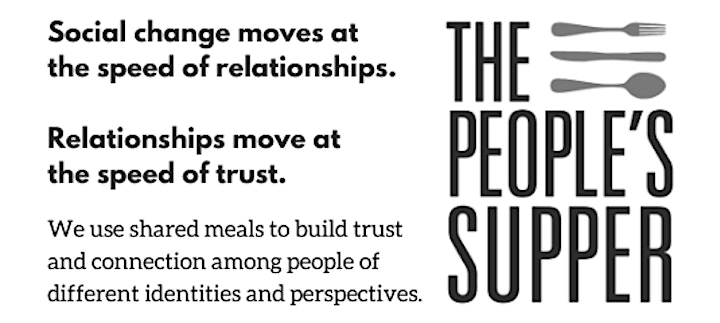 The People's Supper dialogue on mental health to transform negative beliefs and ignite powerful conversations about healing from emotional trauma.
Explore, reflect, and learn more about your well-being through intersectional identity, awareness, and peer-to-peer advocacy:
Shifting your relationships with your emotions
Celebrate the diversity and commonality of the human experience through the art and craft of storytelling
Healthy and safe relationships for all through education on dating abuse, relationship violence prevention
THIS FREE COMMUNITY EVENT IN PHOENIX IS OPEN TO THE PUBLIC AND PRESENTED BY THE SPIRIT OF SERVICE SCHOLARS AT ARIZONA STATE UNIVERSITY:
The Spirit of Service Scholars (SoSS) program honors outstanding students from all disciplines who are passionate about public service leadership and advocacy, and are actively involved in promoting awareness and engagement related to a range of community change and public policy issues.
Explore complex social challenges through seminars embedded in the community that showcase leaders and solutions happening locally and nationally.
Receive mentorship from a high-profile local practitioner and leader of public service in the fields of their choice.
Mentor high school students interested in affecting positive change in their schools and communities.
Vision The ASU Watts College of Public Service & Community Solutions will become the place where students with talent, savvy, compassion and drive become the next generation of outstanding public service professionals ready to understand and help solve society's most urgent challenges.
Mission Address the present and future workforce needs in the public and nonprofit sectors by awarding prestigious scholarships to outstanding students and providing them with an extraordinary academic and real-world education, a life-long interdisciplinary network, and committed, effective mentors.
ALL INQUIRIES FOR THIS EVENT CONTACT: ASUscholars@gmail.com
OUR EVENT REFERENCES, RESOURCES, AND INSPIRATION INCLUDE:
https://thepeoplessupper.org/
http://www.couragerenewal.org/
https://themoth.org/about
http://www.ctznwell.org/ctzn-action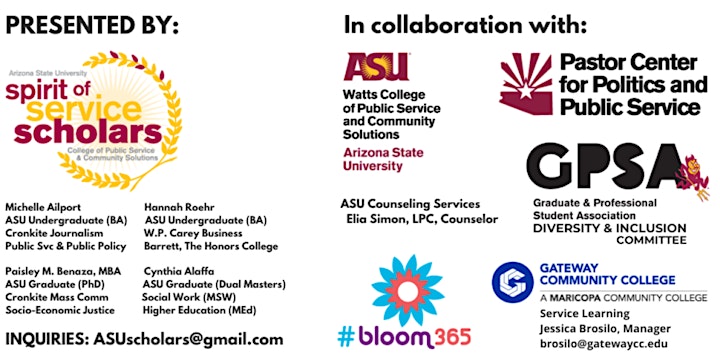 VENUE, TRANSPORTATION, AND PARKING:
GateWay is centrally located at the Washington campus, 108 North 40th Street in Phoenix, just north of the Sky Harbor International Airport and halfway between ASU's Tempe and Downtown Phoenix campuses.
The Washington Campus is the only community college accessible by five freeways, bus, and the METRO Light Rail: 38th Street and Washington stop.
Ample FREE parking lot convenient to Copper Room.