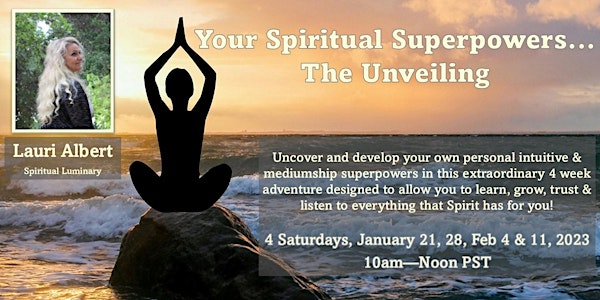 Your Spiritual Superpowers…The Unveiling
Uncover your intuitive & mediumship superpowers in this exceptional 4 week adventure allowing you to recognize all that Spirit has for you!
About this event
We are ALL born with intuition. Learning to trust and strengthen that gut feeling is a fundamental component of true Spiritual development.
Are you feeling the impulse that NOW is the time to allow yourself to progress Spiritually or to open your heart to whatever is next for you?
In this 4 week course, you will:
Learn the importance of the energy portals (Chakras) for Spiritual work.
Study & become proficient in utilizing the 'Clairs' of Psychic & Mediumship.
Recognize the importance of working with your Spirit Guides in all work of Spirit..
Uncover & tune into your own personal Spiritual Gifts.
Begin to understand the process of delivering insightful & meaningful Mediumship & Psychic readings and have the opportunity to practice connecting with Spirit.
Identify the many tools available to you in the work of Spirit.
Receive weekly emails with meditations, handouts, journal prompts & more.
Enjoy your own personal Spirit Journal as a gift from Lauri.
Attend 4 weekly Online Sessions with Lauri.
Have the opportunity to join a weekly Development Circle upon completion of the course.
And So So much more!
Check out what others have experienced...
'Lauri Albert found my spirit and let it out of its cage! I couldn't be more grateful to Lauri for the wisdom, support and genuine kindness she has given me. Since taking Lauri's class, I have learned to communicate with spirit using the "clairs" and how to trust the information that comes through. Being able to harness this gift has opened my world up to new, exciting possibilities and I can't wait to see what happens next!' -M. S.
'I learned SO MUCH in Lauri's class and was truly amazed at what I could accomplish in such a short time! She quickly turns strangers into family and helps everyone discover their own greatness.' - KS
There are only 8 spots available!
Session Dates: January 21, 28, Feb 4 and Feb 11 - 10:00am - 12:00pm PST
Please note that the cost of $175 for ALL 4 sessions.
~~~~~~~~~~~~~~~~~~~~~~~~~~~~~~~~~~~~~~~~~~~~
To learn more about Lauri Albert, Click Here
From a young age, Lauri Albert has been interested in all aspects of Spirituality. Studying the world's religions and developing a daily meditation practice allowed her to create a deep connection with her Spirit Guides which led to the development of her mediumship & intuitive gifts. Lauri has studied with multiple well-known psychic mediums such as Tony Stockwell, Robert Brown, Mavis Pattilla, Austyn Wells and James Van Praagh.
In January 2012, Lauri launched a weekly call-in radio show called "Lauri Albert – A Happy Medium" where she utilized her spiritual gifts to communicate with caller's deceased loved ones, provide insight into the world of mediumship, intuition and spiritual development and inspire others to create the truly happy life that we all deserve!
Lauri is a Certified Masters of Wisdom & Meditation Teacher with davidji, an internationally recognized meditation teacher, stress-management expert and author. In becoming certified with davidji, she has begun to incorporate meditation as a primary tool in her readings, workshops and sessions.
Additionally, Lauri has created a podcast called "In the Flow with Lauri Albert" (found everywhere podcasts are available) as she continues to teach others how to cultivate their own positive and happy lifestyles and develop their own spiritual gifts should they choose to. Lauri aspires to spread the mindset of the power of pure unconditional love with the world.
As of May 2020, Lauri can be found as a Teacher on the largest and most popular meditation app, Insight Timer, leading meditations and is creating and uploading new content regularly.
Most recently, Lauri can add author to her list of credentials with the publication in December 2021 of her first book "Manifestation Journal for Beginner's" where she teaches all aspects of manifestation and the art of learning to live the life that you truly desire. Click HERE to order your copy!
Lauri Albert Spiritual Luminary
Spiritual Medium, Meditation Teacher, Empowerment Coach, Podcast Host, Manifestation Author & Intuitive Educator