Your Required IRA Withdrawal for Charity (and Skip the Taxes!)
Description
At age 70½ the IRS requires you to begin taking withdrawals called "Required Minimum Distributions" from your traditional IRA account. The amounts withdrawn are taxable at ordinary income tax rates. Depending on your tax bracket, that may be a tax-painful event, especially if you don't need or want the additional income.
If you are at least 70 ½, you can avoid these taxes by transferring some or all of your Required Minimum Distribution amount directly from your IRA to your favorite charities. This is called an IRA Charitable Rollover (or Qualified Charitable Distribution).
Join us to learn more!
How to request an IRA Charitable Rollover

Which charities qualify to receive an IRA Charitable Rollover

Other tax benefits, especially with regard to the new tax laws
There is no charge for this event, but registration is required. You can register by clicking the green "Register" icon at the upper right-hand part of this page.
Questions: Email Robin Larsen, Donor Services Officer, or call her at 831.662.2061
Presenters:
Sam Leask, Philanthropic Services Director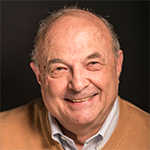 Robin Larsen, Donor Services Officer