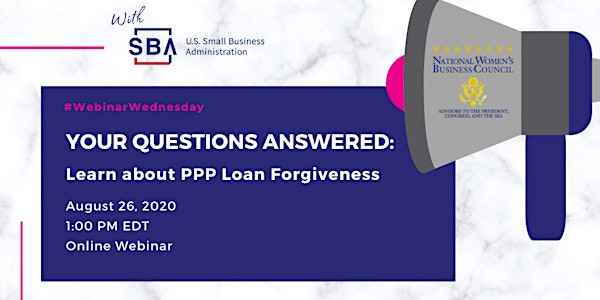 Your Questions Answered: PPP Loan Forgiveness
NWBC is partnering with the U.S. Small Business Administration (SBA) to discuss Paycheck Protection Program (PPP) Loan Forgiveness
About this event
This month, NWBC is partnering with the U.S. Small Business Administration (SBA) to discuss Paycheck Protection Program (PPP) Loan Forgiveness. Council Member Rebecca Hamilton, owner and co-CEO of Badger, will facilitate a Q&A discussion with Jeff Bass from SBA's Office of Rural Affairs.
With over 5 million PPP loans approved to date, Rebecca and Jeff will dive-in to share the latest details on applying for loan forgiveness. Be sure to submit any specific questions you may have upon registering.
NWBC's #WebinarWednesday is a monthly, multi-series webinar that serves as a platform for women entrepreneurs and business owners, to connect them to key advocates, experts, and useful resources that can help bolster their knowledge and skills, and elevate their entrepreneurial potential. At NWBC, we will continue to prioritize this challenge and strive to make inroads for women-owned businesses in starting and growing their business.