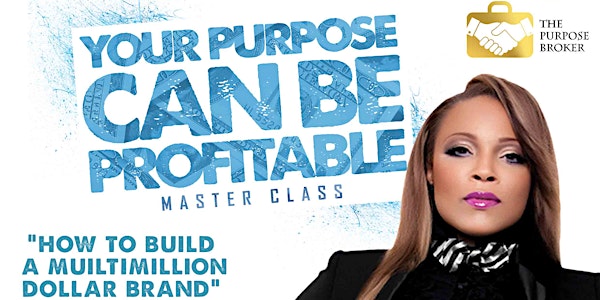 Your Purpose Can Be Profitable
When and where
Location
500 Crawford 500 Crawford Street Houston, TX 77002
Description
The Purpose Broker Presents: "Your Purpose Can Be Profitable"
MASTER CLASS + Keynote Speech & Purpose Training by C. Marie Williams, The Purpose Broker
"How to Build a Multimillion Dollar Brand"
THE #1 BRANDING CLASS IN THE WORLD IS COMING TO HOUSTON--ALL THE WAY FROM NYC!
Tiana Von Johnson is a world-renowned million-dollar branding expert. She generated her first million dollars at 27-years-old--her first year in business. She is one of the most in-demand branding coaches & trainers in the world, taught over 2,500 "How to Build a Multimillion Dollar Brand" series worldwide, she is Wall Street's only African-American real estate broker, and she owns and operates 7 businesses, while simultaneously training over 200 entrepreneurs around the world.
Day 1: Tiana Von Johnson will teach you how to build YOUR brand and generate millions like she did at 27-years-old, how to turn every business idea into a million dollar revenue stream, how to attract new FREE money guaranteed, how to build YOUR celebrity brand, how to launch a product line, how to write a book in 2-weeks, how to build a coaching & speaking business and so much more!
Thousands of dollars' worth of ideas no one will ever teach you will be presented.
Day 2: Tiana Von Johnson will work exclusively with a small group of 30 attendees. You will get intense, personalized business & marketing training with Tiana's mastermind coaching experience offered nowhere else in the world. Powerful experience to jumpstart your year and set you/your business on a purposefully aligned treck of prosperity! You will network with purpose drive, high achievers and be among other entrepreneurs who are here to change the game- not just "try" or attempt something or to "randomly" get rich quick.
January 19, 2019 Heart of Downtown Houston, Next to Astros Stadium
11am: Registration & Networking Luncheon
11:40-12:10 Powerful Kickoff by C. Marie, The Purpose Broker
12:10 pm - 4pm: Tiana's Master Class
With Breaks In Between
+ Bonus VIP Mastermind Day Jan 20, 2019 (11 AM - 4pm)
*Full Meal, Drinks and Snacks throughout sessions provided* Parking is Free at this Finger Property Downtown! Enter the garage on La Branch Street and tell the guard you are here for The event with C. Marie Williams on the 1st Floor.
---
YouTube Holiday Promo Video: https://youtu.be/EJ-0EyOive0
YouTube Event Promo Video: https://youtu.be/lCer-HPQZoc