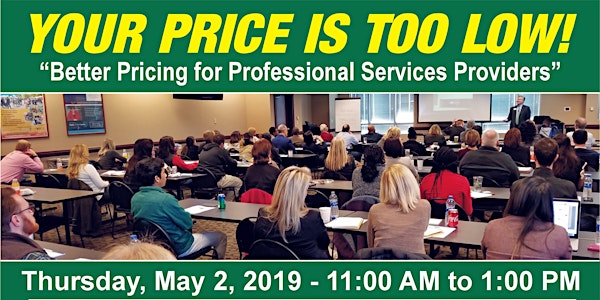 Your Price Is Too Low! Better Pricing for Professional Services Firms
Location
Greater North Fulton Chamber of Commerce
11605 Haynes Bridge Road
Suite 100
Alpharetta, GA 30009
Description
"Your Price is Too Low!": Better Pricing for Professional Services Providers
Are you tired of working too hard for too little profit?

Do you find yourself wishing you had better clients paying higher prices for your work?

Are you trading time for money by pricing hourly?

Do your proposals fall flat?

Do you feel like the value you deliver clients is not reflected in the price you receive?
If the answer to any of these questions is "yes," then you have problems with your pricing. If you're a professional services provider, you have particular difficulties with these issues. Down deep, you know that you are essentially pricing yourself and your own value, and sometimes doing it with a lack of confidence. It's tough to deal with personally and it also costs you significant dollars.
If you are an attorney, accountant, bookkeeper, business or leadership coach, marketing professional, consultant or provide some other B2B professional service, then this workshop is for you.
Topics we'll cover include:
Why charging one price is, by definition, is the wrong price

How to have a "value conversation" which allows you to charge a higher price

How to deliver proposals which are more likely to be accepted at higher prices

Giving yourself a mindset which in turn gives you more confidence in your value
Details:
Location: Greater North Fulton Chamber of Commerce
Time: 11 am to 1 pm
Price: $69 for GNFCC Chamber Member, $99 for non-GNFCC members
Lunch will be provided
Seating is Limited, and No Walk-Up Registration will be Allowed, so Register Now!
MONEY BACK GUARANTEE: You WILL receive more value from what you learn at this event than the price you pay to attend. If after attending you do not agree, you can request a refund and you will be refunded 100% of the price you paid.
"John has answered our call for subject matter expert speakers numerous times over the years. The knowledge, experience and delivery by which he shares both, has always been second-to-none. It is because of the attendance he draws and the glowing evaluations he consistently receives that he quickly became one of our main go-to speakers for everything from one-off workshops, to breakouts at all day conferences. An attendee from his last speaking engagement sums it up nicely, 'the value of this workshop tremendously outweighed the investment to attend.'"
--Stephanie Sokenis, SmallBiz Ally, LLC (formerly Gwinnett Chamber of Commerce)