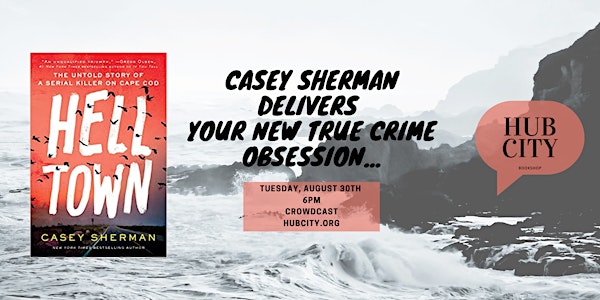 Your Next True Crime Obsession with Casey Sherman, Author of "Helltown"
Join us on Crowdcast for a virtual discussion with Casey Sherman, NYT bestselling author of your next true crime obsession, "Helltown."
Refund Policy
Contact the organizer to request a refund.
Eventbrite's fee is nonrefundable.
About this event
If you love true crime, cultural commentary, or insights into the lives of iconic writers, this event is for you! NYT Bestselling author Casey Sherman conjures 1969 Provincetown, Massachusetts to tell the story of Tony Costa, the serial killer of Cape Cod. A charming man known to a particular group of smitten young women as "the Sire,"—the leader of their countercultural movement—Costa initially escapes suspicion when the bodies begin to pile up in this small beach community. But eventually the police start to close in, and hot on their tail are two famous writers, competing to tell Costa's story and make their mark on American letters. 
Join us at 6pm on Tuesday, August 30th on Crowdcast to learn more and meet the author! Register at the link below, and don't forget to buy your copy of the book from Hub City. 
About the Book 
1969: The hippie scene is vibrant in Provincetown, Massachusetts. Long-haired teenagers roam the streets, strumming guitars and preaching about peace and love... and Tony Costa is at the center of it all. To a certain group of smitten young women, he is known as Sire―the leader of their counter-culture movement, the charming man who speaks eloquently and hands out hallucinogenic drugs like candy. But beneath his benign persona lies a twisted and uncontrollable rage that threatens to break loose at any moment. Tony Costa is the most dangerous man on Cape Cod, and no one who crosses his path is safe.
When young women begin to disappear, Costa's natural charisma and good looks initially protect him from suspicion. But as the bodies are discovered, the police close in on him as the key suspect. Meanwhile, local writers Kurt Vonnegut and Norman Mailer are locked in a desperate race to secure their legacies as great literary icons―and they both set their sights on Tony Costa and the drug-soaked hippie culture that he embodies as their next promising subject, launching independent investigations that stoke the competitive fires between two of the greatest American writers.
Immersive, unflinching, and shocking, Helltown is a landmark true crime narrative that transports us back to the turbulent late 1960s, reveals the secrets of a notorious serial killer, and unspools the threads connecting Costa, Vonnegut, and Mailer in the seaside city that played host to horrors unlike any ever seen before. New York Times bestselling author Casey Sherman has crafted a stunner.
Praise for Helltown
"Master storyteller Casey Sherman takes us back in time to the 1960s and into the dark mind of a charismatic serial killer. Set against the idyllic backdrop of Cape Cod, Helltown is a riveting, often spine-tingling true crime story." ― Terence Winter, Executive Producer of The Sopranos, creator of Boardwalk Empire
"With Helltown, Casey Sherman delivers the kind of true crime that keeps eyes glued to the pages―smart, impeccably researched, and utterly absorbing. Destined to be on all the year-end best nonfiction lists, this is an unqualified triumph by a writer at the top of his game!" ― Gregg Olsen, #1 New York Times bestselling author of If You Tell
"Searing and important, Helltown is an immaculately researched and rivetingly propulsive chronicle illustrating a pivotal part of our history. Brilliantly weaving together true crime, a grotesque criminal, the political landscape, and the brilliant minds who wrote about it―Casey Sherman is a master at bringing history alive. Compelling, complex, and revealing―do not miss this!" ― Hank Phillippi Ryan, USA Today bestselling author of Her Perfect Life
"Readers will not soon forget Sherman's gripping and elucidating web of true crime and literary history tracing the personal, communal, political, and artistic repercussions of gruesome killings during a time of indelible ferment." ― Booklist STARRED Review
About the Author
Casey Sherman is a New York Times Bestselling Author of 13 books including The Finest Hours (now a major motion picture starring Casey Affleck & Chris Pine), Boston Strong (the basis for the film Patriots Day starring Mark Wahlberg), Animal & Hunting Whitey. Sherman is also the author of 12, Search for the Strangler, Bad Blood, Black Irish, Black Dragon, Above & Beyond and The Ice Bucket Challenge. Sherman is a contributing writer for TIME, Esquire, Washington Post, Boston Herald and Boston Magazine and has appeared as a guest an analyst on more than 100 television news programs. Sherman is a graduate of Barnstable High School (Cape Cod), Fryeburg Academy (Fryeburg, Me.) and Boston University.