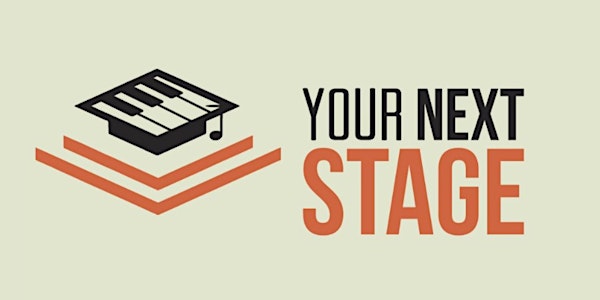 Your Next Stage - UvA Music Conference
A music event for students looking for direction and a point of entry to the music industry.
When and where
Location
CREA 170 Nieuwe Achtergracht 1018 WV Amsterdam Netherlands
About this event
Still lost about your future plans? Interested in the world of music business, but have no idea where to start? Look no further as Your Next Stage powered byThe School of House , the conference which will give you the basis you need to kickstart your professional or musical career in the music industry!
Get ready for a full day of panels, discussions, Q&A's, and networking carousels with some of the biggest names in the scene during the first-ever music-focused career orientation event at the UvA.
This event offers you the opportunity to invest in your career and seek the direction you've been missing. Providing first-hand knowledge and valuable insights into the music industry, Your Next Stage will put you in touch with the industry leaders to best help you. With professionals from all facets and academic backgrounds, this conference will show you how to launch a career in the music world, helping to take your skills from university and apply them in this growing industry.
Follow us on Instagram here for panel announcements and detailed profiles of our guest speakers!
Announced Line-Up!
Moderator: Jan Maarten Hartong. LinkedIn
Guest Speakers
Presentation by: Pieter Wolter, Founder and CEO of The Music Recruiters - LinkedIn
Maarten Schram - Managing Director at IDEA and Founder of LiveCom Alliance - LinkedIn
Sander Petit - Founder and Managing Partner of Backstage Law - LinkedIn - Backstage Legal
Esmee Bosklopper - PR Manager and Director at Cejlon Studio - LinkedIn
Iason Chronis (AKA Mason) - DJ Producer and Label Manager - LinkedIn - Website
Sarah Hildering - Director of Dance and Electronic at Ingrooves Music Group - LinkedIn
Malou Miedema - Music Journalist at 3voor12 - LinkedIn
Jeroen te Rehorst - Vice President A&R at Armada Music - LinkedIn
Networking Carousel 🎪🎪
Carlotta Lavino - Marketing Manager - LinkedIn
Merlijn Poolman - Night Mayor of Groningen, Event Programmer - LinkedIn
Zalfa Farah - Operational Manager at The School of House and Founder of Keys N Chords Music Academy - LinkedIn
Berend Versteeg - General Director of Paradiso Amsterdam - LinkedIn
Melanie Esther - Artist Branding and Social Media Coach - LinkedIn
Justine Servais - PR, Artist Branding and Management - LinkedIn
Alex Ter Horst - Founder of Never Land Music - LinkedIn
Spyros Bonikos - Director for Operations at The Bullitt Agency - LinkedIn
Quincy Troeno - Digital Marketing at Talpa Network - LinkedIn
Joao de Groot - Freelance Creative Consultant - LinkedIn
Bibi Kor - Data Analyst at Sony Music Entertainment - LinkedIn
Tim Driehuis - Project Manager at Sony Music Entertainment - LinkedIn
Kimberly Tanikromo - Head of A&R and Business Development at Cruise Control Studios - LinkedIn
Saptarshi Chakraborty - Partnership Operations at TicketSwap and Co-founder of Bring the Rhythm - LinkedIn
Ilona Roco - Radio Producer at Qmusic - LinkedIn
Martijn Diepenhorst - 'The Nightlife Lawyer' Lawyer and Founder of Plus One Legal - Contact
Quirina Geijsen - Venue Promoter for De Vorstin and Markt Centraal and Floor manager at The Ziggo Dome - LinkedIn
Erik Veerman - Managing Director at Peermusic Neighbouring Rights - LinkedIn
Emiel Haring - Freelance Strategist and Marketer and Innovation Project Manager at Melkweg - LinkedIn
Valentijn Hoogwerf - AKA Avalan, Grammy Nominated Producer, singer and DJ - LinkedIn
Susan Zwijnenberg - COO and Partner at Grey Men Management - LinkedIn
Bas Smelt - Business and M&A advisor at Grey Men Management - LinkedIn
Sarah Hildering - Director of Dance and Electronic at Ingrooves Music Group - LinkedIn
Faris Zaher - CEO of Sonomo Finance - LinkedIn
More announcements soon!
Thanks to our partners who make this event happen: Stichting Toekenningen, the EB Career Center, IASPM Benelux, Mercurius, Mobilo Card.