Description

The Road to Financial Wellness arrives in Nashville, TN on June 30, 2016 for Pit Stop #18.
The Road to Financial Wellness is an award-winning, 60-day grassroots tour dedicated to transforming how we feel about money and empowering a generation to build their dream lifestyle.
Expect networking, a local entrepreneur panel discussion, stories, and a fireside chat!
#TheRoadNashville is Proud To Present:
Jason Vitug - Phroogal

Kate Dore - Cashville Skyline

Kristin Larsen - Believe in a Budget

Travis Johnson - Millennial Money Coach

Tim Gray - Grayscale Entertainment Marketing & Grayscale Entertainment
Ayumi Bennett - Startup Southerner
Courtney Webb - Hey Rooster General Store & Y'alls Balls

Corey Davis - Emerge Financial Wellness
...and more!
* Free foods and drinks courtesy of Phroogal.

* First 50 people to RSVP via Eventbrite will snag a signed copy of Jason's brand new book, You Only Live Once: The Roadmap to Financial Wellness and a Purposeful Life.
* Ready to get more involved as a partner, sponsor, or volunteer? Please email info@roadtofinancialwellness.com :)
---
Speaker and Panelist Bios:
---
Courtney Webb, Owner of Hey Rooster General Store and Y'alls Balls
Courtney Webb is an entrepreneur and owner of East Nashville shop Hey Rooster General Store and food startup Y'alls Balls. Courtney has a background in architecture, being unemployed in architecture, and starting businesses with limited capital. She has had savings, 401k's, health insurance, has lost them all and is still revising plans to put the structure of her finances back together. Visit the shop at www.heyrooster.com and have a ball at https://www.facebook.com/yallsballs
---
Tim Gray, CEO of Grayscale Entertainment Marketing & Grayscale Entertainment
Tim Gray is the CEO of Grayscale Entertainment Marketing, an award nominated full-service marketing agency focused on strategic partnerships and digital marketing services as well as President of the management firm Grayscale Entertainment. Gray's entrepreneurial career spans 12 years with experience in branding, ticketing, concert promotion, booking, management, photography, and video production working with artists and clients such as Sixthman Cruises, Papa Roach, Shooter Jennings, Katy Perry, Joe Diffie, and Saving Abel.
Learn more about Tim: http://www.grayscaleentertainment.com/
---
Ayumi Bennett, Founder of Startup Southerner
Ayumi Bennett is the founder of Startup Southern, an inclusive media platform that explores the dynamics of the entrepreneurial ecosystem in the South. Their primary mission is to make information about participating in the new economy accessible to everyone who is a 'startup person.' She's also a UX strategist, freelance copy editor, and media strategist. Ayumi is a graduate of the Nashville Software School and Vanderbilt University.
Learn more about Startup Southerner: https://startupsoutherner.com/
---
Travis Johnson, Founder of Millennial Money Coach
Travis Johnson is a financial planner and founder of Millennial Money Coach, a personal finance blog for millennial professionals and entrepreneurs who are seeking to improve and simplify their finances, get clear on their life vision and goals, and create a plan to achieve those goals and build a life they love. Travis is on a mission to help young professionals all over the country live their ultimate life by creating a solid financial foundation and understand how their income is simply a tool to help them achieve that life. Travis is a member of the Financial Planning Association of Middle Tennessee and is currently fulfilling the educational requirements in pursuit of obtaining his CFP (Certified Financial Planner) designation.
Learn more about Travis: https://www.instagram.com/millennialmoneycoach/
---
Kristin Larsen, Creator of Believe In A Budget and Belmont Media
Kristin Larsen initially created her blog Believe In A Budget to document the ridiculous ways she earned extra money to get out of debt. Today she's a #GirlBoss and teaches other entrepreneurs how to make money through side hustling and freelancing. She is the author of The Ultimate Resource Guide, a book dedicated to helping others start making money.
Within a year of launching BIAB, she was able to quit her day job to focus on blogging and running her own business full time. Combining her design and marketing degrees, Kristin launched Belmont Media, a boutique marketing firm that specializes in Pinterest imagery and marketing for other bloggers and businesses. In her spare time, you can find her photographing her dogs around Nashville.
Learn more about Kristin: www.believeinabudget.com
---
Kate Dore, Nashville Ambassador and Founder of CashvilleSkyline.com
Kate Dore is a blogger, freelance writer, and social media consultant hustling toward financial freedom. She took control of her money to change careers from concert promoter to digital marketer and online entrepreneur. She's passionate about promoting financial literacy among young creative professionals. And she's currently pursuing a certificate in Financial Planning from Boston University.
Learn more about Kate: www.cashvilleskyline.com
---
Corey Davis, Vice President of Emerge Financial Wellness
Corey Davis became passionate about financial wellness after working directly with small business owners while Director of Business Growth at the Nashville Area Chamber of Commerce. At the Chamber, he developed educational programs to help small business owners find financial success both in their business and personal lives. Corey continues to promote financial health in his role as Vice President of Emerge Financial Wellness. Emerge provides organizations with resources and education to empower their employees to manage and resolve the financial stressors that can contribute to deteriorated health, distraction, and disruption at work.
Learn more about Emerge Financial Wellness: www.emergebenefits.com
---
Jason Vitug, Founder at Phroogal and Creator of The Road to Financial Wellness
Jason Vitug is a social impact entrepreneur as the founder of Phroogal, a financial education startup and lifestyle brand. Jason paid off over $40,000 of student loans and credit card debt, and found the answer to "finding his purpose." Jason left his senior executive job in 2012 and backpacked through 20 countries in 12 months, successfully crowdfunded raising $78,501. Jason is also the author of, You Only Live Once: The Roadmap to Financial Wellness and a Purposeful Life, the essential guidebook to help you live your dream lifestyle. Learn more about Jason: www.jasonvitug.com.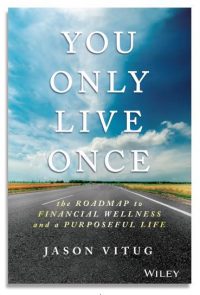 Nashville Pit Stop is made possible by: