About this Event
Join us for a magickal weekend this autumn in Philadelphia, PA where we'll be focusing on really owning and expressing our personal power for the elevation of our people and our personal purpose. This is a space that's open to all forms of wellness, self love, creativity, and magick-making.
This event is meant to not only give you some time away before Samhain, or what we know as Halloween, but also to give you some knowledge to take with you on your spiritual journey. There will be lessons & panels on wellness, healing, the science & application of "magick", entrepreneurial & financial advice, creativity, connecting with our ancestors or spirit guides, and more.
All activities will be ongoing, but you ARE NOT obligated to participate in anything. Make this experience about you, add on what you need and leave what you don't. This is a space for YOU to become to greatest version of YOURSELF.
We hope you'll INVEST IN & TREAT YOURSELF by sharing space with us in October.
Learn more about the entire retreat, the location, accommodations, vendor opportunities, ticket information & VIP packages over at (matterzcollective.com/ymmretreat)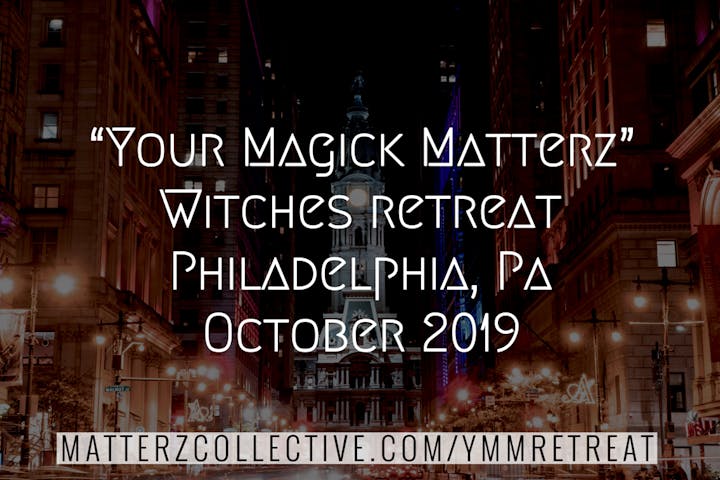 All tickets purchased will gain you access to every workshop, practice, & from Friday to Sunday morning.
​You'll also have an access to an array of activities, including:
Friday Night Witch Ball
Zen Trap Meditation
Music Immersion Therapy & Meditation
Movement, Flow and Group Ice Breaker
Vendor Marketplace
Gift Bags, Giveaways, & Freebies
Saturday Night Group Ritual
Sacred Sensuality & Relationship Workshop
Goddex Sessions
Herb Blending and Oil Making Workshop
Nature Walk
City Exploration
Group Astrology Sesh
And More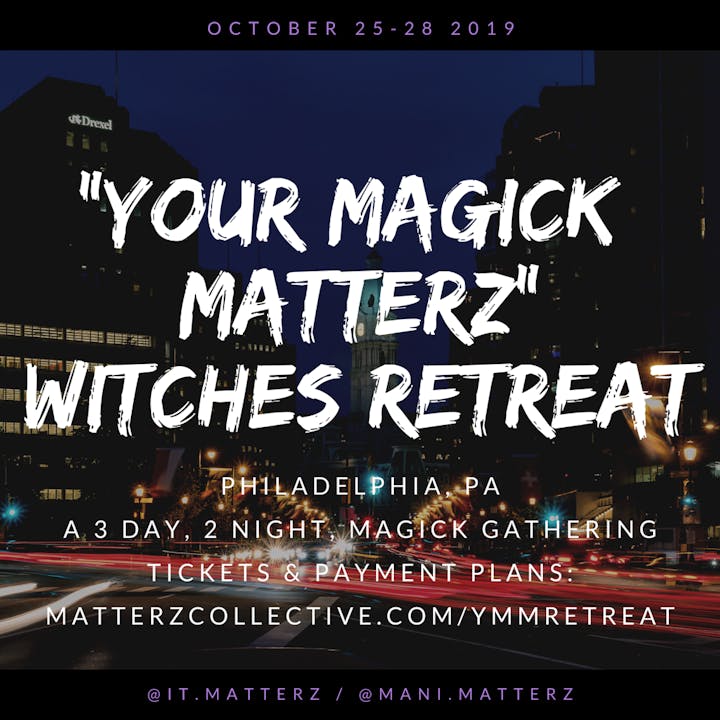 ABOUT THE TICKETS
"Goddex: the both plural and singular, non-gendered term for the divinity reflected in each of us ✨"
VIP "GODDEX" PACKAGE: Enjoy the entire event experience from Friday night to Sunday evening, with accommodations and delicious meals all weekend. You'll also get the ability to stay in group housing with an intimate group of attendees and some of the speakers. Get ready for those midnight bloody mary's, herbal smokes, and conversations about the spirit realm
SINGLE & DOUBLE "GODDEX" PACKAGE (w/ HOTEL) : You get to experience the entire retreat from Friday night to Sunday morning, with the option to extend your stay an additional night. You'll have beautiful high class, hotel accommodations for you and/or a friend to relax in after getting lit with us Friday night and learning with us on Saturday.
SINGLE & DOUBLE "GODDEX" PACKAGE (w/o HOTEL) *FOR PHILLY RESIDENTS ONLY* : For those of you who live in, or have close family members in Philadelphia, and won't be needing accommodation, you can still come to the retreat and make magic with us! You'll have access to all the workshops and activities from Friday night to Sunday, and full participation in events like giveaways. **Please send your valid Philadelphia address and/or ID to matterzcollective@gmail.com for confirmation of residency**