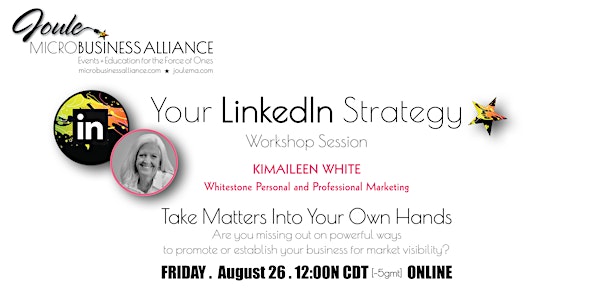 YOUR LINKEDIN STRATEGY . Workshop Session
Are You Using LinkedIn to Its Full Potential?
About this event
YOUR LINKEDIN STRATEGY
Take Matters Into Your Own Hands
Friday . August 26 . 12:00P CDT [-5gmt]
Are you missing out on powerful ways to promote or establish your business for market visibility? Includes hands on training.
WORKSHOP SESSION
Learn how to develop a database of business prospects using LinkedIn's powerful, built-in features for businesses.
Build business using this flexible social media platform to promote unique products and services without spending a dime of your advertising budget.
Provide more opportunities to help existing and prospective clients and customers find your business and learn more about you—all in one place.
Cost: Complimentary
Speaker: KimAileen White . Whitestone Personal and Professional Marketing . Joule Microbusiness Alliance Advisor
Host: Joule Microbusiness Alliance . The Force of Ones™.