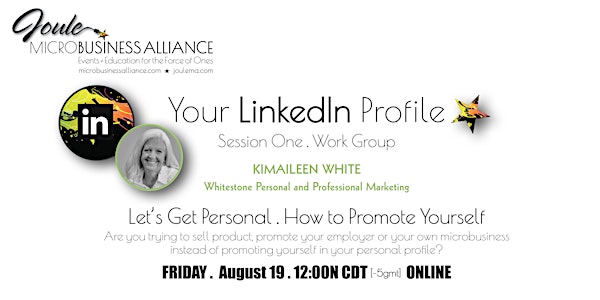 YOUR LINKEDIN PROFILE . Session One
Are You Using LinkedIn to Its Full Potential?
About this event
YOUR LINKEDIN PROFILE
Let's Get Personal . How to Promote Yourself
Friday . August 19 . 12:00P CDT [-5gmt]
Are you trying to sell product, promote your employer or your own microbusiness instead of promoting yourself in your personal profile?
SESSION ONE . WORK GROUP
Learn how to strategically strengthen your personal brand.
Refine, expand and build your professional network.
Advance your professional presence.
Keep customers and prospects up-to-date on your professional activities.
Maintain long-term connections with strategic communications.
Increase your referral base and solidify your peer affiliations.
Cultivate personal recommendations through ongoing communications.
Keep your relationships fresh and engaging.
Stay connected with your industry.
Cost: Complimentary
Speaker: KimAileen White . Whitestone Personal and Professional Marketing . Joule Microbusiness Alliance Advisor
Host: Joule Microbusiness Alliance - The Force of Ones™.