Multiple Dates
Your Invited! WORLD OF TRAVEL EXPO Expedia CruiseShipCenters Venice, Punta...
Event Information
Location
Expedia CruiseShipCenters
3 Days - 3 locations
1/12 -The Villages, 1/14 - Punta Gorda and 1/15 -Venice, FL
Description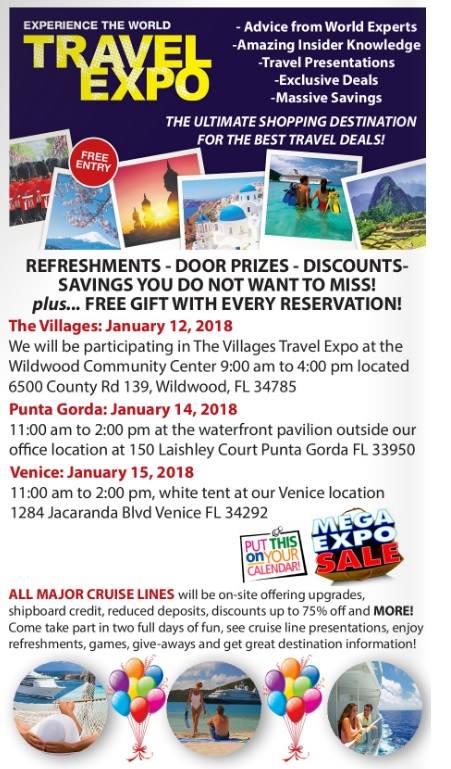 Expedia CruiseShipCenters is excited to extend an exclusive invitation to you for our upcoming World of Travel EXPO, we'll be featuring exciting door prizes and light refreshments!
Please join us in welcoming all of the top Cruise Vendors, to learn more about their 2018 Exciting itineraries. Plus, you'll also be the first to learn about our upcoming Sales, and the exciting Expedia Extras you can enjoy when you book your next cruise with us!
· Date: Sunday January 14
· Time: 11 AM to 2 PM
· Location: 150 Laishley Court Punta Gorda FL 33950
· Date: Monday January 15
· Time: 11 AM to 2 PM
· Location: 1284 Jacaranda Blvd Venice FL 34292
Make sure to mark your calendars, and join us for this fun and informative event. Contact us today to RSVP – we look forward to seeing you!
Contact our Vacation Consultants today to start planning your upcoming adventure!
For the latest Flip Book Version of Your Travel Navigator Magazine:
Location
Expedia CruiseShipCenters
3 Days - 3 locations
1/12 -The Villages, 1/14 - Punta Gorda and 1/15 -Venice, FL