Modern bohemian LOFT with ZEN VIBE for connection, inspiration, creation & MANIFESTATION of YOUR AUTHENTIC & ARTISTIC FRAMED vision board!
About this event
What would you like to CREATE?
We all have a unique vision for what we would like to create in our lives. Vision boards are visual representations of the thoughts, intentions, and feelings around what we would like to manifest. We can have a goal but we also need a vision of what that life will look like and what we will look like living that life. We have to feel the emotions we will feel when we attain that goal. We get to familiarize ourselves with the thoughts that will accompany those feelings of joy, calm, accomplishment, gratitude, etc...
In order to manifest our desires, our commitment and participation is required! Creating new neural pathways allow us to see ourselves differently and support decreasing/eliminating self-imposed, self limiting beliefs! We get to believe we can do it. Let us believe we can have the life we desire!
How? By giving ourselves permission to show up as the best versions of ourselves in other words, showing up as our AUTHENTIC SELF!
Our time together on the 19th will be filled with healing, connecting, intention setting, creation, laughter, and fun. The goal? To clearly define our goals and intentions, share in positive vibes and energy, and create a vision board that inspires us EVERYTIME we look at it!
* Facilitated & Created by a NYS Licensed Psychotherapist and Artist.
* Beautiful, zen vibe, modern bohemian loft in WILLIAMSBURG, Brooklyn (first stop on the L train from Manhattan). Close to The Bronx, Manhattan, and Queens. Plenty of seating throughout : sectional sofa, meditation pillows, chairs, long table with chairs, etc. The space also has different spaces and comfortable nooks. The space holds 45 comfortably, we will be keeping it to 25 MAX and proof of vaccination is required (temperature will be taken at the door).
* We will begin with a letting go/release exercise, shared expression of gratitude, and then sharing of intentions around what we would like to manifest in 2022. Participants will be given a one-of-a-kind HANDPAINTED NOTEBOOK to write down their goals/desires/things they want to manifest.
* Participants will be provided with top quality magazines and materials to create a collage, add their personal drawings, and pictures, etc. SO EXCITED TO ANNOUNCE that ALL PARTICIPANTS will also receive a beautiful 22x28 GOLD FRAME so they can leave with their framed work of art!
*Self-care Reusable Giftbags with sage, rose quartz or citrine, candle, and more will be given to all participants.
*A toast with wine and sparkling cider before we begin creating our vision boards!
*Variety of beverages, small bites and Hors'doeuvres will be provided. There will be vegan options. Please let me know at time of purchase if you will need a vegan option.
Ticket price: $180 (Supplies, Frame, Giftbag, Food, and Refreshments INCLUDED!)
More information at: tthompsontherapy.blog
Email: Ourperfectus@gmail.com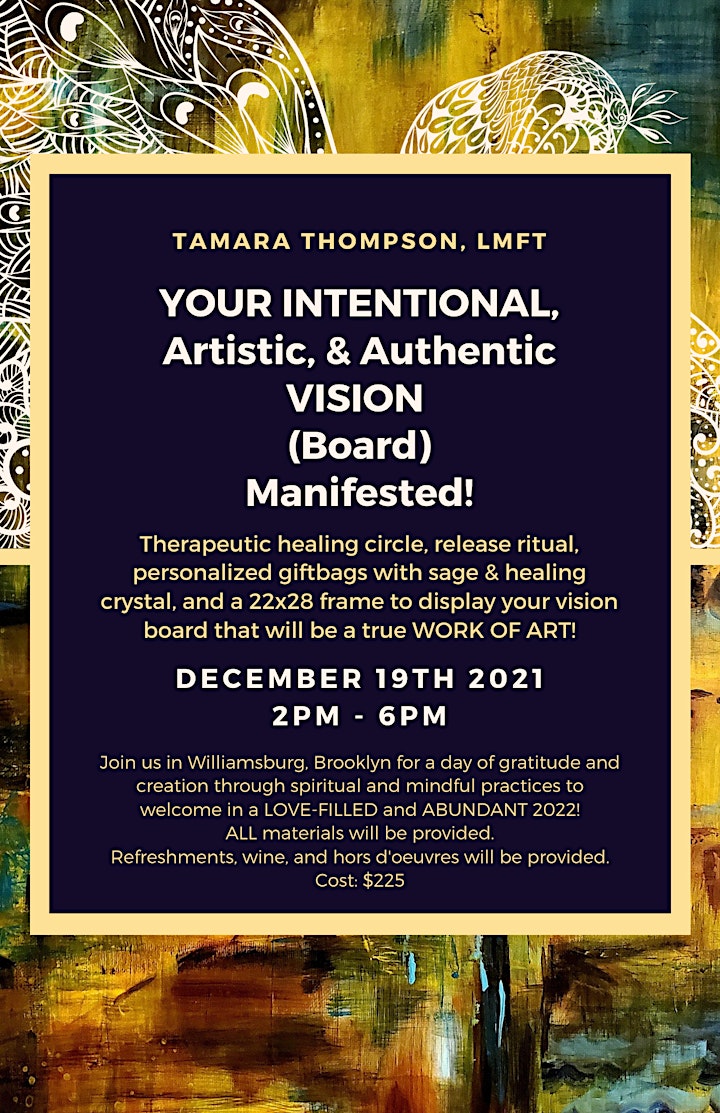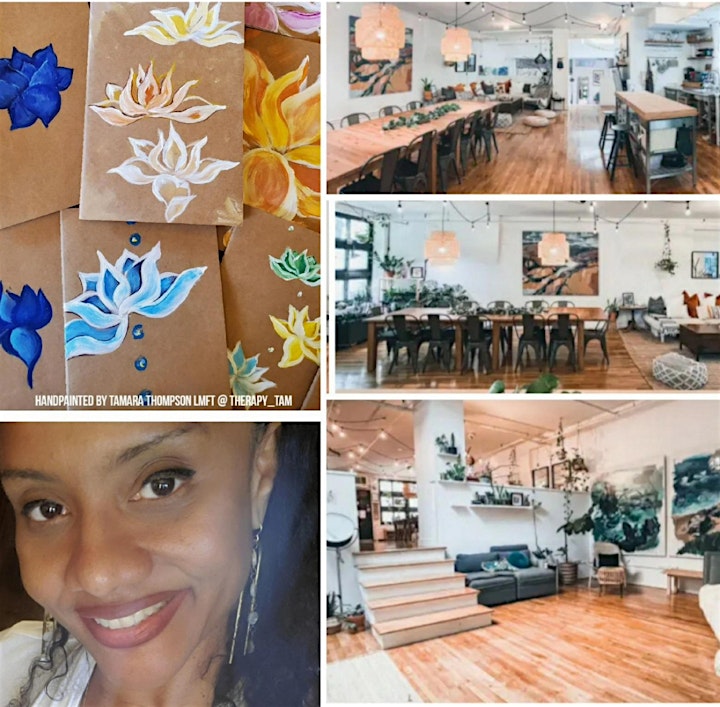 Organizer of Your Intentional, Artistic, and Authentic VISION(Board) Manifested!