Event Information
Location
California Center for the Arts, Escondido
340 North Escondido Boulevard
Escondido, CA 92025
Description
Creative Life Solutions presents Your Health is Your Wealth
at California Center for the Arts, Escondido - Conference Center
Friday, October 19th, 2012 from 4:00PM - 8:30PM
Speakers include:
Geronimo Rubio MD - Medical Director and Cancer Expert
Eileen McDargh- Nationally awarded work/life balance speaker
Carolyn Gross - Author and Patient Advocate
Health fair includes:
GIA Wellness, Authors Who Speak, Healthy Living Publications, Living Water Rejuvenation Center, Fusion Excel, Nerium AD, Vitamins 4 Life, Heather Roddy Gallery, Sarah Cook Ruggera MFG, Patti O'Neill Design, McDargh Communication, D'hair and Spa, Rubio Cancer Center, Aqua Detoxx, Passion 4 Life.
This special evening on Friday, October 19, 2012 at the California Center for the Arts in Escondido features: Two of the top experts in Immunotherapy Geronimo Rubio Sr. & Jr. MD, Nationally awarded work/ life balance speaker- Eileen McDargh CSP & CPAE, and Health & Wellness Expert/Patient Advocate Carolyn Gross. Along with this great talent the evening will feature a health marketplace, live music, hors d'oeuvres and networking.
Entertainment:
Adrienne Nims Band - Adrienne Nims's passionate energy and dazzling musicianship as a solo artist and with talented bands create an inspiring and unforgettable entertainment experience. Her dynamic, sensual voice on the saxophones, flutes and many more global indigenous instruments express not only a vast array of musical culture and style, but the magic and mystery of life.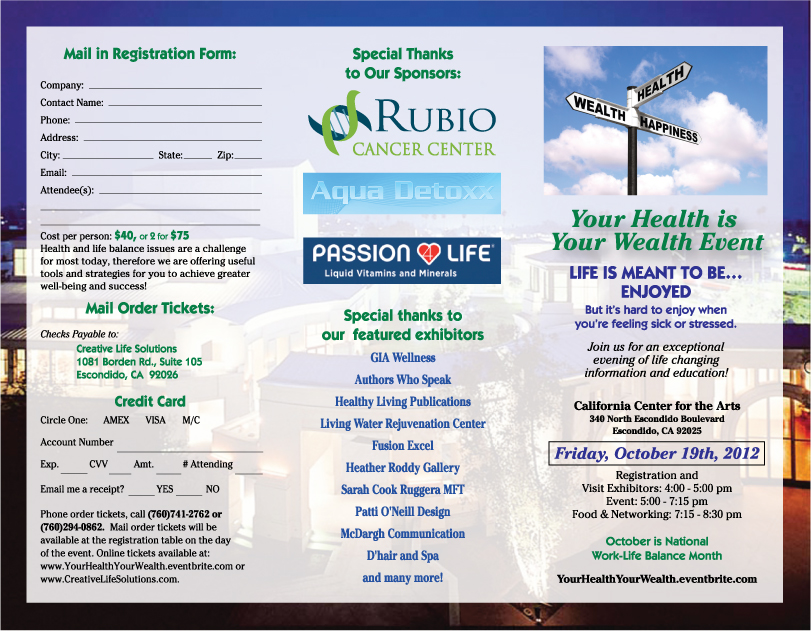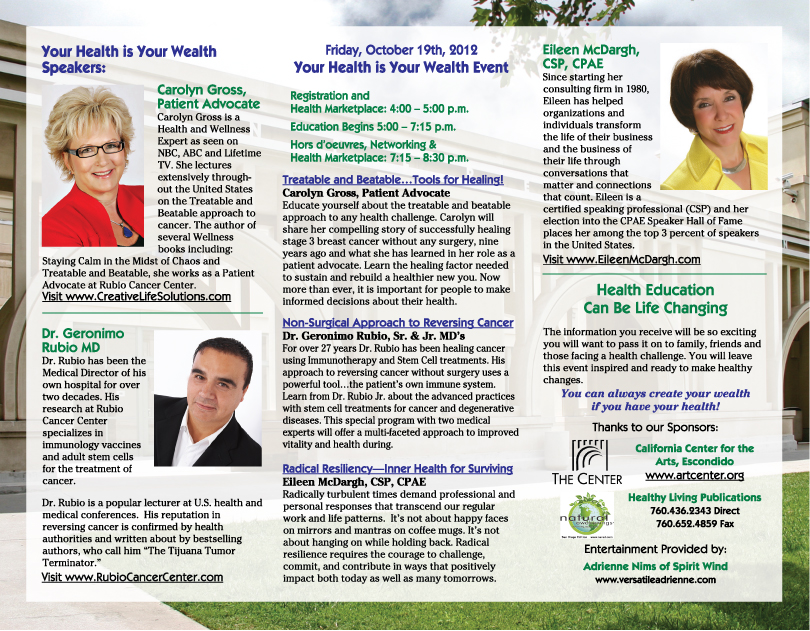 Date and time
Location
California Center for the Arts, Escondido
340 North Escondido Boulevard
Escondido, CA 92025