More Referrals More Relationships More Prospects More Money Since 2004, Jeff Klein has been teaching this results-oriented solution for biz.
About this event
Takeaways:
- High-Performance 30-Second Commercials (The Elevator Pitch)- Living Lists of WHO You Should Be Asking to Meets- Clarity on HOW to Ask for Introductions- Tools to Connect in More Meaningful Ways- Join Jeff for a money-back-guaranteed workshop that will help you turn networking opportunities into referrals and prospects.
Award-winning Messaging Expert Jeff Klein teaches his proven techniques to help business professionals and salespeople generate referrals from their 30-second networking commercials. Jeff has been helping businesses all over North America craft and communicate their messages for over 30 years. He Guarantees he delivers effective, results-oriented 30-Second Networking Commercials for his clients to use to grow their businesses.
If you don't get referrals when you implement this method, Jeff will refund your money.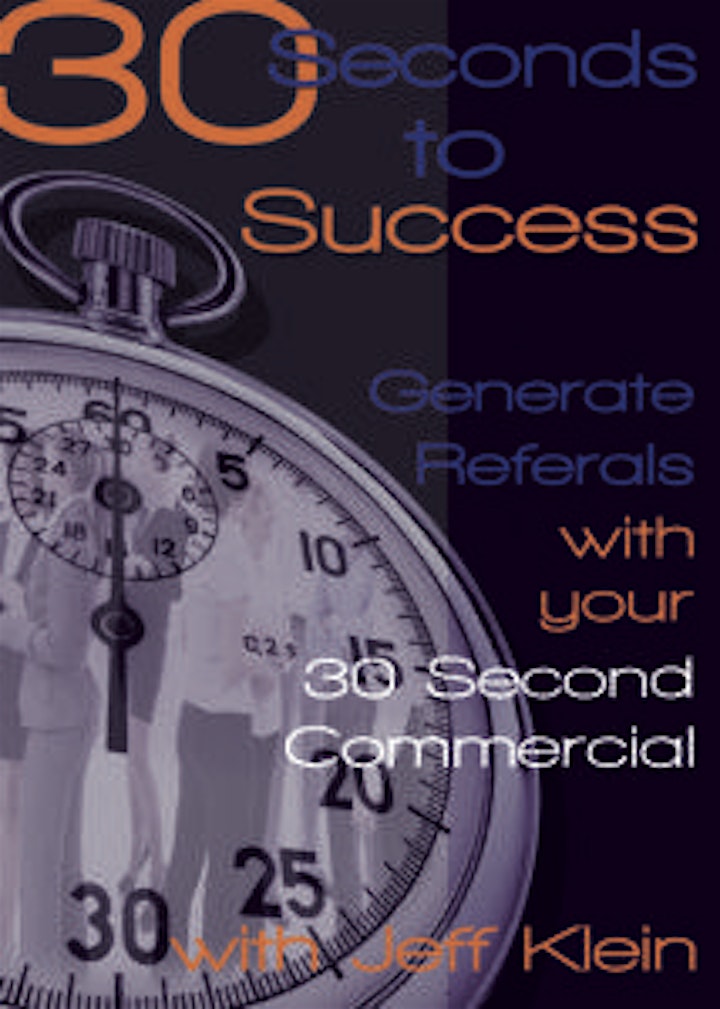 Organizer of Your Elevator Pitch: 30 Seconds to Success
We're a group of business & public speakers working together for exposure, masterminding, resources, and education.
Founded in 2006, Speaker Co-op is a cooperative community of almost 1,000 business & public speakers and resources.
At our meetings, we learn about Speaking As a Business Strategy, grow our community of speakers, mastermind together, and share resources.
Online, we showcase speakers to meeting & event planners and offer education and resources to speakers.
The main functions of Speaker Co-op are:
Getting speakers in front of audiences using speakercoop.com.
Connecting speakers to the resources they need.
Educating business & public speakers.
Educating aspiring business & public speakers.