YOUR DIGITAL YOU - the blueprint - a workshop designed to improve your digital profile - in NYC - November 13

Multiple Dates
Event Details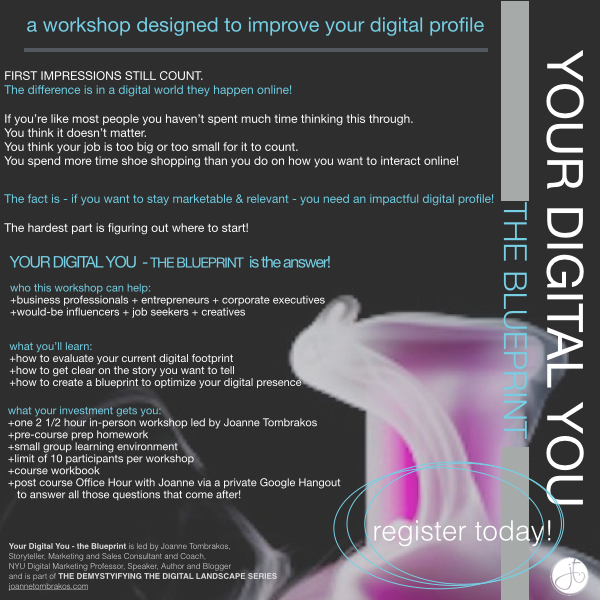 Have questions about YOUR DIGITAL YOU - the blueprint - a workshop designed to improve your digital profile - in NYC - November 13?
Contact Joanne Tombrakos
Organizer
Joanne Tombrakos
Joanne Tombrakos is a Storyteller, Consultant, Digital Strategist and Adjunct Professor of Digital Marketing at NYU. She is also a Speaker and Author who blogs on demystifying digital for business and life at http://www.joannetombrakos.com. Her focus, whether she is working with individuals or corporations, is on educating, empowering and offering practical tools to keep you and your business digitally relevant. Her experience includes sales and marketing management positions at CBS and Time Warner. An early adopter of digital, she considers herself a creative entrepreneur and is the self-published author of It Takes An Egg Timer, A Guide to Creating the Time For Your Life and a novel, The Secrets They Kept. Joanne has contributed to The Huffington Post, ForbesWoman and BlogHer. YOUR DIGITAL YOU - the blueprint - is her signature product.
YOUR DIGITAL YOU - the blueprint - a workshop designed to improve your digital profile - in NYC - November 13