BECKWITH10 applied. A 10% discount is available.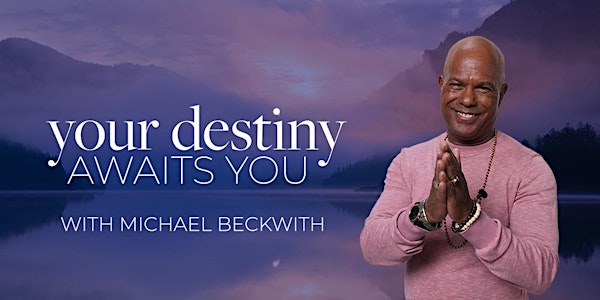 Your Destiny Awaits You with Michael Beckwith
Join Michael Beckwith for Your Destiny Awaits You, a live GaiaSphere event just outside of Boulder, Colorado the weekend of June 10 – 11
By GaiaSphere Event Center
Date and time
June 10 · 8am - June 11 · 6pm MDT
Location
GaiaSphere Event Center 833 W South Boulder Road Louisville, CO 80027
Refund Policy
Refunds up to 30 days before event
About this event
1 day 10 hours

Mobile eTicket
About This Event
Begin Living the Life You Were Meant to Live
Join Michael Beckwith for Your Destiny Awaits You, a live GaiaSphere event just outside of Boulder, Colorado the weekend of June 10 – 11, 2023.
You are called to live a dynamically powerful life; to discover and activate the gifts and talents that only you possess. You are here to increase your capacity to hold more cosmic energy, the vital source that animates all forms of life and maintains balance in the entire cosmos.
Are You Ready to Learn How to Live Your Destiny?
Destiny is both an inside and an outside job. Many of us have experienced turbulent waters, yet there is a sacred place within each of us that continues to create, to push, to seek. Only you have access to this place, and it is within this space that your destiny lives.
Michael Beckwith, one of the world's most beloved spiritual teachers, draws on his decades of leadership in personal growth, human consciousness, modern spirituality, and transformational education to inspire and awaken your own inner teacher. He will lead you on the voyage of a lifetime, teaching you how to discover and activate your own radiant human template — how to live your destiny.
During this transformative weekend, this renowned thought leader will share invaluable insights, meditations, activations, and techniques, to support and guide you as you access the destiny you came here to live. With Beckwith as your guide, practice The Four Stages of Consciousness and The Dance of Co-Creation, and learn how to open to the fullest expression of yourself.
Come experience the magic of a GaiaSphere event:
Bask in an intimate setting with one of your favorite luminaries.
Enjoy meaningful connections with a like-minded community.
See the Gaia Studios where our original series are filmed.
Walk the Gaia Labyrinth and see one of the largest geodes on Earth.
Experience the energy of our crystal-infused space.
Meet Gaia staff during the event.
Explore stunning Boulder, Colorado, and so much more!
We look forward to seeing you!
About Michael Beckwith
Michael Bernard Beckwith is the Founder and Spiritual Director of Agape International Spiritual Center in Los Angeles, a trans-denominational community comprised of thousands of local members and global live-streamers. Dr. Beckwith is a sought-after meditation teacher, conference speaker, and seminar leader on the Life Visioning Process™. He's addressed audiences at the UN General Assembly during its annual World Interfaith Harmony Week, TEDx Maui, and Oprah Winfrey Network's (OWN) SuperSoul Sessions, among numerous others.
As co-founder and president of the Association for Global New Thought, he has hosted conferences featuring harbingers of world peace, including His Holiness the Dalai Lama, and had the distinguished honor of presenting to Nelson Mandela the Gandhi King Award. Three of his books, Life Visioning, Spiritual Liberation, and TranscenDance Expanded, have received the prestigious Nautilus Award. He has been a guest in several Gaia videos, including Transcendence: Expert Lessons and Inspirations, and he presented Life Visioning at the first annual Emersion conference.
Can't Attend In Person?
You can still participate in this immersive experience with your favorite experts and a like-minded community with Events+. If you're not already a Gaia Events+ Member, sign up or upgrade your account to watch all of Gaia's transformative workshops and events, live and on demand, plus access 8,000+ titles that support your journey of self-growth. For more information, click here!
Schedule
Saturday, June 10th, 2023
8:00 AM - 9:00 AM | Doors Open - Registration
9:00 AM - 10:30 AM | What Is the Universe Up to With You?
10:30 AM - 11:00 AM | Break
11:00 AM - 12:30 PM | Transcending Victimhood
12:30 PM - 2:00 PM | Lunch Break
2:00 PM - 3:30 PM | The Mastery of Manifestation
3:30 PM - 4:00 PM | Break
4:00 PM - 5:30 PM | It's All About Flow-Motion
5:45 PM - 7:00 PM | VIP Reception
Sunday, June 11th, 2023
8:00 AM - 9:00 AM | Doors Open - Registration
9:00 AM - 10:30 AM | The Radical Tension Between Being and Becoming
10:30 AM - 11:00 AM | Break
11:00 AM - 12:30 PM | Pulled by A Vision
12:30 PM - 2:00 PM | Lunch Break
2:00 PM - 3:30 PM | The Life Visioning Process™
3:30 PM - 4:00 PM | Break
4:00 PM - 5:30 PM | YOU– The Living Embodiment of True Success
* Times subject to change without notice
Session Descriptions
Session 1 | What Is the Universe Up to With You?
During this session, Michael will welcome everyone to the journey of their lifetime. He will explore what the Universe is up to by means of our incarnation and assist participants in embracing the feeling tone of their overall intention for the weekend. He teaches that the progressive multidimensional Universe is seeking to produce an individual who can perfectly reflect and reveal the entire cosmos according to their unique pattern. He will give an overview of the Four Stages of Spiritual Growth and unfoldment and offer introspective processes for connecting with the tonal qualities of willingness, gratitude, and joy.
Session 2 | Transcending Victimhood
During our sojourn on planet earth, we have been imprinted by family environment, the social milieu, religiosity, miseducation, the tyranny of trends, superstitions, limited interpretations of past experiences, seeming abuses, and more. Often when not neutralized, these imprints become an aspect of our personal law. To transcend these hindrances, we must forgive and ultimately release them. Michael will elucidate on how these vibrational obstructions impact our perception and our life experiences. He will then assist us in dissolving these impediments through intention and forgiveness. Remember, this gathering will be not only inspirational, but transformational in nature.
Session 3 | The Mastery of Manifestation
We have been given the gift of a human incarnation and we have said yes to the gift by virtue of the fact that we are here. Our assignment is to manifest, or bring into expression, the sacred qualities of The Source of all creation according to our uniqueness. This includes abundance, creativity, beauty, love, and much more. Michael will teach what true manifestation is and assist in creating the vibrational condition for the out-picturing of the good we are seeking. He will assist in reenchanting the imagination to manifest at a higher level.
Session 4 | It's All About Flow-Motion
As we, via spiritual practice, lift our vibrational tone, we discover the flow state. It's often called the zone, a moment when it feels that something higher has taken us over, and beyond our planning or preparation, we are being carried by an energy that pulls us into a state that transcends the ordinary way of being and doing. It is as if we are an instrument of something greater than our limited selves. Intelligence, creative energy, love, and more have taken over and we almost simply witness what is moving through us. We cannot make this state of grace happen, but we can make it welcome. Michael will describe this flow state and assist in creating the condition for it.
Session 5 | The Radical Tension Between Being and Becoming
In moments of BEING consciousness, or unitive awareness, all sense of separation dissolves and we have a moment of consciously being connected to the All. In the traditional understanding of enlightenment, once you "reached" this state of consciousness you were complete. However, in what is called evolutionary enlightenment, due to the Truth that you are an infinite being, there is always more unfolding of the unitive awareness. Meaning, you continue to become more of yourself, your greater yet to be, because: 1) there is always more expansion of awareness and, 2) there is always more to share. Even in having a body, there is always more to explore and give. Michael will share experiential processes to connect you with the timeless eternal Presence and to become more available to the Truth that we are and have all that we need while unfolding to release our giftedness.
Session 6 | Pulled by A Vision
Beckwith often says, "we are pushed by pain until we are pulled by a vision." The multidimensional Universe is progressive and is always expanding. When we are stagnant we get pushed, and when we come into alignment with our vision we are pulled. During this module, Michael will teach the seven stages and the nuances of the Life Visioning Process™ that he originated in preparation for his facilitating the actual process. Every module will be open to dialogue and questions and answers.
Session 7 | The Life Visioning Process™
In this module, Beckwith will lead the Life Visioning Process and will also harvest and help articulate the emerging vision that comes through individuals during this session. Every module will have some degree of experiential activation and or meditative process, however, this module will be primarily The Life Visioning Process which is a meditative technology. He teaches that our destiny is determined by our character and character is determined by our attitude. As we are pulled by a vision, our attitude transforms and our great destiny emerges.
Session 8 | YOU– The Living Embodiment of True Success
In this module, Beckwith will remind us that we are not to be airy-fairy, as the saying goes, nor nitty gritty, but airy-gritty. That is, we are to live not as an ascended master but as a descendent master. This is a life where we are bringing the realm of ever-expanding good to Earth. We are not seeking to escape the human incarnation, but to so embody our insights and revelations via Life Visioning and other spiritual technologies that we are living and manifesting our vision. True success, as he teaches, is manifesting our heart's desire and unfolding the gifts of our soul. Through mastery of our attention and embracing inspired dedication, we will birth the next great version of our true Self and be a beneficial presence on the planet. As with each module, there will be activated experiential exercises to go along with his inspired teachings.
Ticket Types
General Admission tickets include:
Two immersive days of presentations by Michael Beckwith
Complimentary organic lunches (Choose your preferred meal type using the drop-down when ordering your ticket)
A chance to walk the Gaia labyrinth and take a tour of the production studio with other attendees.
VIP tickets include everything included in general admission, plus:
VIP Reception on Saturday 6/10 from 5:45 pm - 7:00 pm.
Photo opportunity & Book signing with Michael Beckwith during VIP reception(book provided)
Preferred seating in the first rows of the auditorium.
$50 Gaia Shop Credit.
Preferred access to sign up for experiences like labyrinth and studio tours.
Tickets do not include a digital copy of the event. However, you can watch this and all other previous and upcoming events with an Events+ Membership. Learn more here.
Venue
Join us at Gaia's headquarters outside of Boulder, Colorado, at our new, state-of-the-art event space, nestled in the foothills of the Rocky Mountains, less than 30 minutes from Denver. Here, you'll have the opportunity to experience immersive workshops and events with top thought leaders in an intimate setting and form connections with a like-minded community journeying with you on your path.
Address: 833 W South Boulder Road, Louisville, CO 80027
Accommodations
Many hotels are available within a 15-minute drive of GaiaSphere. We recommend staying in downtown Boulder, as there are a variety of hotels situated within walking distance of many activities and dining options. We have special rates for GaiaSphere Attendees at the following hotels:
• Hotel Boulderado (use code "GAIAEVENT")
• Homewood Suites by Hilton (use code "GAIA")
Contact Us
We're happy to answer any questions you may have. Reach out to us at: Tickets@gaia.com
About the organizer
Answer life's deeper questions and go beyond the mainstream narrative with Gaia— a member-supported media network of truth seekers and believers empowering an evolution of consciousness. Explore over 8,000 ad-free, streaming titles that challenge modern paradigms and allow you to manifest the reality that defines your being.