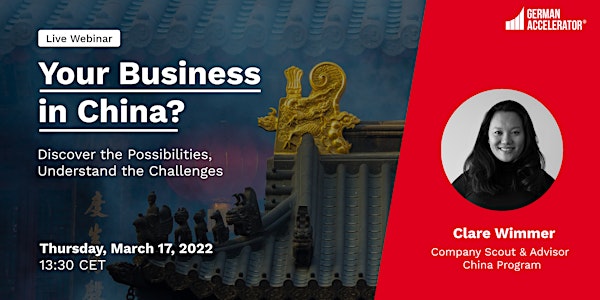 Your Business in China?
Discover the possibilities, understand the challenges
About this event
Could China be part of your path to growth?
Discover the market, its opportunities and challenges to see what an expansion even during the global pandemic could do for your business.
German Accelerator's China offering takes participants on a fast-paced learning journey in highly individualized workshops and connects entrepreneurs to a unique ecosystem of dedicated mentors and experts.
Clare Wimmer from German Entrepreneurship helps you to navigate this exciting market.
Clare is Company Scout and Advisor for German Accelerator China Programs. She embodies globalization at its best: Born in China, raised in the U.S., she currently lives and works in Germany. She is trained in Sales & Marketing on Wall Street and spend over a decade working in Asia, Europe and the U.S.. As our specialist, she is your contact at German Entrepreneurship for China.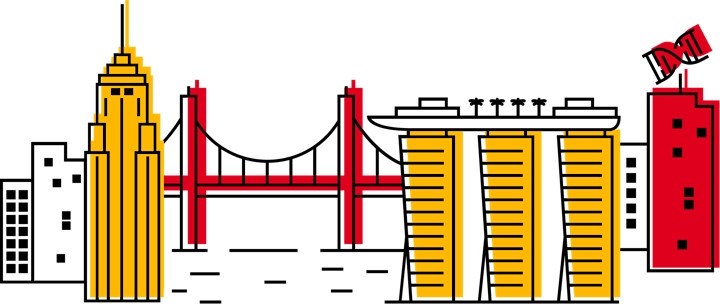 German Accelerator empowers German startups to scale globally. We take high-potential companies on a fast-paced learning journey to understand, discover, and access the world's leading innovation hubs in the U.S. and Asia. Through highly-customized programs, mentoring from dedicated experts, as well as access to our vast network of business partners and investors, we help startups from all stages and across various industries on their way to international success. Since launching in 2012, German Accelerator has nurtured over 500 startups which have raised more than $4.9 billion in funding so far. German Accelerator is run by German Entrepreneurship GmbH and is proudly financed by the German Federal Ministry for Economic Affairs and Climate Activation (BMWK). Visit www.germanaccelerator.com for more information.