YOUR Branding Tool Kit: Kick more &*@$# & MAKE MORE MONEY in 2012

Thursday, May 24, 2012 from 8:00 AM to 5:00 PM (CDT)
Event Details
YOUR Branding Tool Kit: 
Kick more BUTT & make more $$$$ in 2012
Apply the secrets of MILLION DOLLAR Brands without the MILLION DOLLAR Budget
This GAME CHANGING Workshop will teach you how to STAND OUT in a crowded and competitive marketplace.  The name of the game is simple: BIG BRAND makes BIG MONEY.  You like money right?......
Thursday May 24 | Day ONE | 9:00 to 5:00 | BRANDED!
8:00 to 9:00 Early Birds
Arrive early and network and nourish your stomach before we nourish your brain.
9:00 to 10:00 Brand Building Blocks
What are the essential qualities of a well built BRAND? Learn the secrets of MILLION Dollar Brands and how you can capture their success for yourself.
10:00 to 12:00 YOU are a Storyteller
The Worlds BEST BRANDS tell their story better than their competition which ultimately leads to more sales.  Have you mastered YOUR story?  Find your story today and how to tell it in a meaningful way. 
*Interactive and Activity Driven.  You will SHARE your story, get feedback, edit and refine.
 12:00 to 1:00 Break for Lunch
Lunch is on your own. After a full packed morning of your brain on full tilt, you need to go outside, breathe fresh air and re-boot for our afternoon session.
 1:00 to 3:00 YOUR Brand Strategy
Learning techniques, tactics, and tricks is just the start.  Now you have to think STRATEGICALLY about what you have learned. The next step in today's workshop is to begin the process of assessing where you are in the brand building journey. We will cover:
Where are you right now in your brand development?

How does the marketplace perceives your brand?

How do you WANT people to perceive your brand? 

Where are you weak and where are you strong regarding your brand?

How do your current business building goals impact your brand building strategy?

How does YOUR brand compare to the competition?

 
*BRING past marketing materials like your business card, ads, postcards, mailers, and other collateral material. We will use these to generate conversation.
 3:00 to 5:00 Developing Your Message & Getting to Know your Audience 
Develop an Audience Persona

Case Study Examples--Audience HIT and MISS

Key Messaging: Define and Articulate THREE Key Messages for your brand

Visualize Your THREE Key Messages

Resisting CLICHES
Meet Your Facilitators
Libby Spears, Bravo CC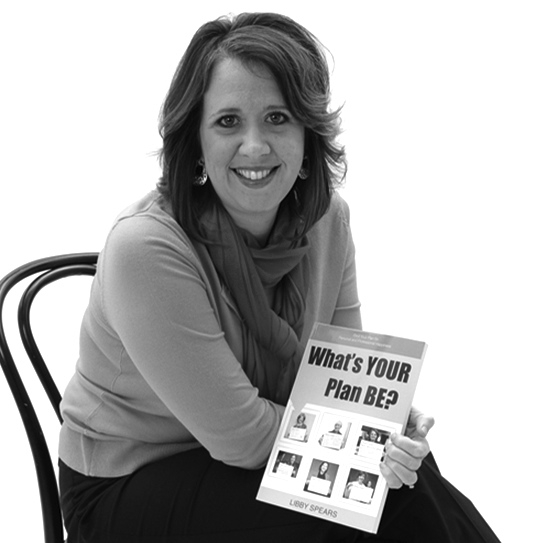 Libby Spears is a highly sought after speaker who always delivers a memorable experience for her audience. After a career in the college classroom perfecting her teaching and instructional style, she stepped away from the college classroom and now work with corporate clients, entrepreneurs, educators and non profit organiations.  For more than five years she has worked with clients across numerous industries on their brand, story, and presentation skills.  She has helped clients close million dollar deals with game changing presentations that looked and felt nothing like the same old boring business presentation.  She prides herself on her ability to bring fresh, unique insights to everyone she works with and infuse them with a sense of courage and risk taking to break a few rules to stand out in a crowded and competitive marketplace.  
She is the author of "What's YOUR Plan BE?" a Guide for finding your Plan BE in Your Personal and Professional Life and the forth coming book "Step Away From the Laser Pointer": Rules for Creating a Game Changing Presentation EVERY Time! She has been featured on Good Morning Texas and The Not So Perfect Parent. 
As a professional speaker, Libby enthusiastically shares communication and marketing insights learned from her years teaching in the college classroom + working with a diverse client set across numerous industries.  The strategies, tactics, and take-aways she imparts in every presentation feel fresh, new and her audiences response is a resounding "Yes!" They cannot wait to get back to work to implement what they learn from her.  Her reputation for customizing and connecting to her audience's unique needs and challenges makes her a great choice for any occasion.  
When & Where
3600 COLORADO BLVD
Denton Tx, 76210


Thursday, May 24, 2012 from 8:00 AM to 5:00 PM (CDT)
Add to my calendar
YOUR Branding Tool Kit: Kick more &*@$# & MAKE MORE MONEY in 2012