Description
Restore back your life!
Unhealthy habits creates imbalance in our body. The Restore (General) workshop helps improve our health as well as alleviate any existing pain or discomfort that you may be experiencing.
ARE ANY OF THESE AILMENTS BOTHERING YOU?
- Headache
- Stiff Neck and Shoulder
- Insomnia
- Respiratory Issues (Asthma / Cough / Sinus / Sore throat)
- Stomach issues [Constipation, Irritable bowel syndrome (IBS)]
- Fatty Liver
- Back pain
Master the Easy and Effective methods of keeping your body in balance to keep discomforts at bay.
WHAT TO EXPECT?
1. Understanding of how self-acupressure can play an active role in our preventive healthcare regime
2. Facilitators' guidance to ensure participants' correct location of acupressure points
3. Be able to start applying what you learn immediately! Workshop comes with YounGoGo kit (quality herbal essential oil and scrapping board worth S$20)
PREPARATION FOR WORKSHOP
Do come in comfortable 2 piece attire with loose neck line. Shorts or loose bottom are good.
Do NOT come in dress or tight fitting clothes with no access to our arms, neck, shoulders, abdomen, lower back and legs.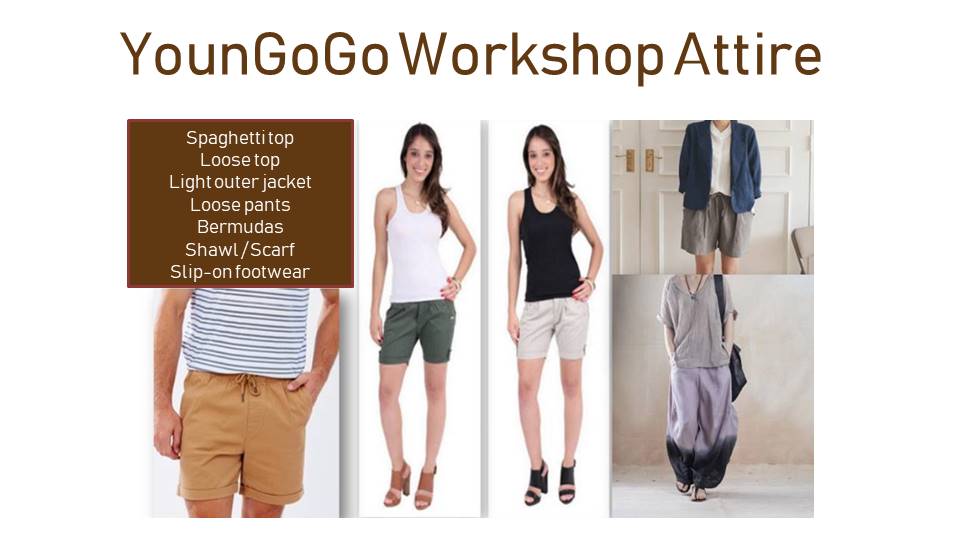 Get healthier with a buddy at Buddy Price. $68/pax instead of $88/pax!
About the trainer
Hui Fang believes that everyone can lead healthier lives and can stay young regardless of our age through unlocking our natural wellness as long as we are willing to get started! She also believes that we start improving our health right away and focus on preventive healthcare. By setting up YounGoGo, she strives to empower others with her skills and knowledge so that they too can have better overall well-being.
Hui Fang graduated from Nanyang Technological University's Nanyang Business School with a degree in Human Resource Consulting. She first learnt meridian therapy in 2006 from a group of Taiwanese professors from National Yang Ming University. Since then, she has fallen in love with the simplicity and effectiveness of their methods and wants to contribute to society by sharing what she has learnt with the world.
As an experienced meridian therapy trainer and a popular wellness speaker, Hui Fang regularly leads meridian workshops at community clubs, associations and corporate organisations.
She is currently upgrading herself at Singapore College of Traditional Chinese Medicine to value add and serve you better.
https://www.linkedin.com/in/leehuifang/
https://www.linkedin.com/company/youngogo
YounGoGo Restore Workshop (General) is conducted every Thursday 2pm to 4pm.
If the timing clashes with your schedule, drop us a note to arrange your private session : hello@youngogo.com or whatsapp +65 9299 6182