About this Event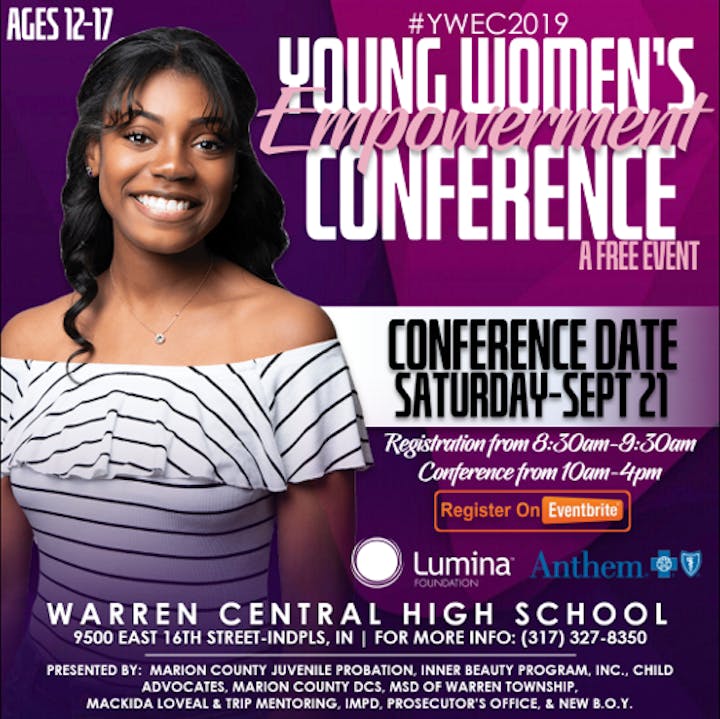 This FREE city-wide youth conference offers a variety of exciting workshops for you to choose from! College Readiness, Project Runway, Self Defense, Social Media Safety, and Line Dancing are just a few examples! There will also be a Special Guest Speaker immediately following singing, dancing, and even rapping during lunch time!
Parents are also welcomed to attend! There will be a Parent Resource Fair, adult workshops, and even a Spa Room for you to enjoy! See flyer below! (Lunch will be available for you as well!)
There will be lots of chances for both youth & adults to win door prizes and there will be a GRANDE PRIZE given to a youth that stays until the end!
Date of Event: Saturday, September 21, 2019
Location: Warren Central High School, 9500 E. 16th St., Indianapolis
Registration & Check-In: 8:30am - 9:30am
Conference: 10:00am - 4:00pm
IMPORTANT NOTICE FOR PARENTS & GUARDIANS: By registering your youth, please understand that you are agreeing to the terms of the Individual Waiver, Release of Liability, Consent to Medical Attention, and Photo Release outlined below.
1. Waiver and Release: I release and discharge the Young Women's Empowerment Conference (from this point forward referred to as YWEC), its parent organizations, its sponsors, committee members, agents, representatives, participating vendors/exhibitors or anyone or business entity affiliated or participating in the YWEC event, successor or assigns from all claims for any liability, injury, loss, or damage in any way connected with my participation in the YWEC event whether or not caused in whole or part by the negligence or any liability generating act of any kind or description by the YWEC event. I intend this Assumption, Waiver, Release, and Consent shall apply and limit my relatives, personal representatives, heirs, beneficiaries, next of kin, or assigns who might pursue any legal action or claim for such liability, injury, loss or damage.
2. Consent to Medical Treatment: I agree and consent that the Young Women's Empowerment Conference may select, but has no obligation, responsibility or duty, to provide me appropriately trained or qualified medical care provider or health care person, emergency assistance, transportation, or medical services. This consent does not impose a duty or obligation of any type on the Young Women's Empower Conference or Release(s) to provide such assistance, transportation or services.
3. Applicable Law: This Assumption, Waiver, Release, and Consent shall be controlled and interpreted consistent with laws of the State of Indiana without consideration of the conflicts of laws of other jurisdictions.
4. Photo Release: I hereby grant the Young Women's Empowerment Conference permission to use my likeness in a photograph in any and all of its publications, including website entries, without payment or any other consideration. I understand and agree that these materials will become the property of the Young Women's Empowerment Conference and will not be returned. I hereby irrevocably authorize the Young Women's Empowerment Conference to edit, alter, copy, exhibit, publish or distribute this photo for purposes of publicizing the YWEC program or for any other lawful purpose.
I hereby hold harmless and release and forever discharge the YWEC from all claims, demands, and causes of action on which the YWEC, representatives, executors, administrator, or any of the heirs of the aforementioned, who may be acting on behalf of the YWEC by reason of its authorization.