Description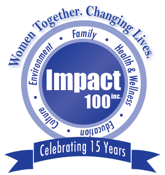 ---
Please join us and other young philantropists at an informal gathering to learn more about Impact 100, a women's charitable nonprofit organization that is dear to our hearts, on June 15th, at Portaluca, a boutique whose proceeds benefit Dress for Success.

Impact 100 is committed to improving Greater Cincinnati/Northern Kentucky by collectively funding significant grants to charitable initiatives. 100% of each membership goes directly to a grant pool (so the more members we have...the more grants we can award). We are celebrating our 15th Anniversary of awarding grants this September!
Since 2002, Impact 100 has awarded over $3.2 million, funding 29 transformational programs/projects.The grants are each $100,000+ so they are very IMPACT-ful to each nonprofit recipient and the people these organizations serve. This year we will be awarding FOUR grants of $101,500.
Join us for some small bites, and refreshments and learn more about an Impact 100 membership. During the evening, you can meet Impact 100 members and listen to Dress for Success describe how their grant was truly transformational. Then, shop and get $5 off your purchase of $10 or more at Portaluca.
Please RSVP by 6/12/16 by clicking REGISTER button!
We hope you can attend,
Lindsey Huhn, Shannon Yung, Megan Hoelker
Kathy Depperman and Martha Strawser

Spring cleaning? Bring any new or gently used clothing or accessories to donate! A tax donation card will be given at the time of the donation for your records.
**Parking is available across the street from Portaluca Boutique at the corner of 4th Street & Plum Street. http://www.portaluca.org/contact/#anchor_downtown