About this Event
Are you ready to flex your political power and ramp up your civic engagement? Young Women Run Chicago will connect you to elected leaders, train you on strategies to mobilize for 2020, and more. You'll build a squad of politically ambitious young women and leave empowered, activated, and ready to run for office - or campaign for a candidate you admire. Onward, to Young Women Run and 2020!
IGNITE is thrilled to partner with the YWCA of Greater Chicago to lead this event.
Agenda:
9:00AM - Breakfast and Registration
9:30AM - Welcome and Plenary
10:00AM - Breakout #1
11:00AM - Breakout #2
12:00PM - Lunch with Women in Politics
1:00PM - Opportunity Fair
New! Campaign Leadership Track at Young Women Run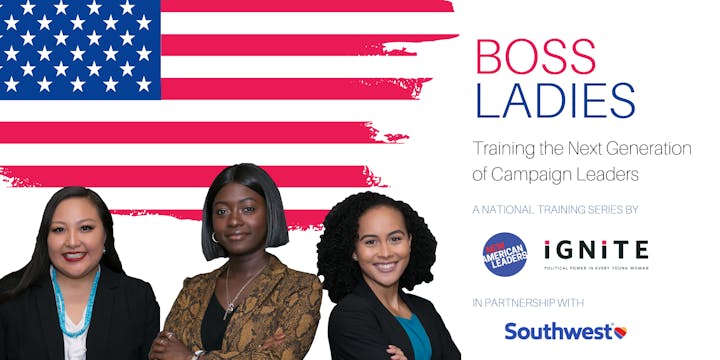 Boss Ladies: Training the Next Generation of Campaign Leaders
IGNITE and New American Leaders are joining forces to train the next generation of fierce campaign leaders. As a badass boss lady, you will learn the keys to running a successful campaign - how to find a position that fits your skillset and professional goals, figure out what candidate you want to work for, create a winning campaign strategy, and a host of other essential campaign skills! Boss Ladies will walk away not only feeling empowered, but with a new campaign toolkit that includes fundraising advice, GOTV strategies, field management insight, media tips, and more.