Young Women on Fire Fearless Mentoring

Multiple Dates
Event Details
Register NOW to hold your seat!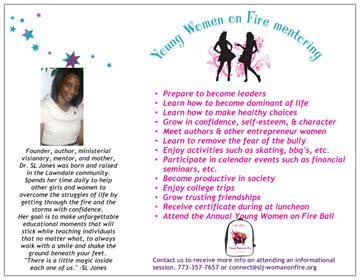 NOTE:There must be at least 15 girls registered for each meet in order for the program to be successful.
Our Mission
Our mission is to help girls ages 9-17 to become fearless diamond trendsetters while using strategies of faith and modern examples to become unstoppable against bullying.
Young Women on Fire is a TEEN & PRE TEEN girls ministry of Ivy's Faith Ministries.
Our headquarters location is Garfield Park, Golden Dome.
Our program
YWOF perspective members begin by attending orientation which includes details and registration forms that needs to be completed by the student and the parent/ guardian at the 1st meet date.
After the fall term orientation, YWOF members will then be able to begin their journey of becoming a fearless trendsetter at the 2nd meet .
Registration will be open and available for YWOFmembers thru Sept.19th. The program will continue through Dec. 4, 2013. 
Meets/ Activities
Each meet includes snacks, today's modern girl topics, role playing, financial workshops, etiquette and manners, discussions, materials, writing materials, hygiene and fabo health days, and fashion and beauty days. Our meets will also include other entrepreneurs, authors from around the globe.
__________________________________________________________ 
If you are over the age of 18 and is interested in becoming a volunteer or sponsor for the Young Women on Fire fearless mentoring program, please send your request to
SPONSOR: http://www.slj-womanonfire.org/sponsorship
VOLUNTEER: http://www.slj-womanonfire.org/contact-us
THANK YOU FOR SUPPORTING/ JOINING OUR FEARLESS MOVEMENT!
Where

Chicago Park District, Garfield Park, Golden Dome
100 N Central Park Ave
Chicago, IL 60624


Multiple Dates
Add to my calendar
Young Women on Fire Fearless Mentoring