Description
If you're a young professional women in Boston who works or is interested in working in the digital, social, experiential and online marketing field, join us!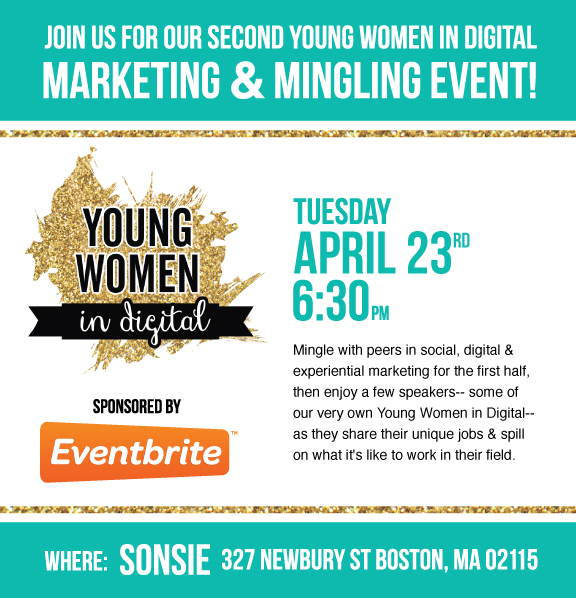 Meet peers in the digital marketing field and hear three speakers--up-and-coming Young Women In Digital--spill on the best campaign they've worked on from start to finish. Even sweeter? Eventbrite is providing an assortment of delicous candy, and giving you the chance to win golden tickets (yes, Willy Wonka style) -- fun gift cards to Starbucks, Dunkin Donuts and Georgetown Cupcakes! All you have to do is tweet or instagram using the hashtag #YWDBoston during the night to enter to win! Plus, enjoy appetizers throughout.
Part 1
For the first hour, mingle with women working in the Boston agency, brand, non-profit and start-up scene to find out what their day to day is like. Enjoy complimentary appetizers, and a full candy bar with an assortment of your favorite sweets, thanks to Eventbrite.
Part 2

After you fill up on apps and candy, listen to three of our very own Young Women In Digital speak about a campaign they've launched and get the chance to ask them anything you want!
Speakers:

Sara Steele-Rogers: Boston Community + Marketing Manager, Eventbrite. @BriteBoston
Becky Brackett: Marketing Associate, Boston Center For Adult Education. @becky_brackett
Elizabeth Dobrska: Marketing & Creative Coordinator, Animal Rescue League of Boston. @dobrska
Anyone that Likes us on Facebook or follows founders, @socialmel or @sidneycolie before the event, is entered to WIN a Starbucks gift card! Gift card given at the event.
This will be a monthly meetup with mix of activities including:
Casual after work drinks
Instagram/Tweetup-only events
Top speaker engagements
Foodie nights
Other special events
________________________________________________________________________________________
This group was started by 3 young marketing professionals who wanted to create pressure-free events to meet marketing peers, learn the latest trends and more! Join us on LinkedIn!
Hosted by:
Melanie Cohn, Digital Account Manager - GY&K Antler
Twitter: @socialmel
Blog: ilovelovee
Nicole Troelstrup, Online marketing & PR
Blog: thecontentcookbook
Twitter: @sidneycolie