Young Professionals in Space
Description

Come and join us in Barcelona, Spain to learn about the recent trends and advances in the trajectory of space science and technology. An international, interdisciplinary venture for advancing your career beyond the horizon.
VISION STATEMENT
1.Young Professionals in Space serves as a launch pad for top performing students and professionals aiming to establish a career in the Space industry.
2.Encouraging young professionals from different IEEE societies to partner and exchange technical knowledge through this platform.
3.Develop a collaborative environment for knowledge sharing, boot camps and training on interdisciplinary subjects for young professionals.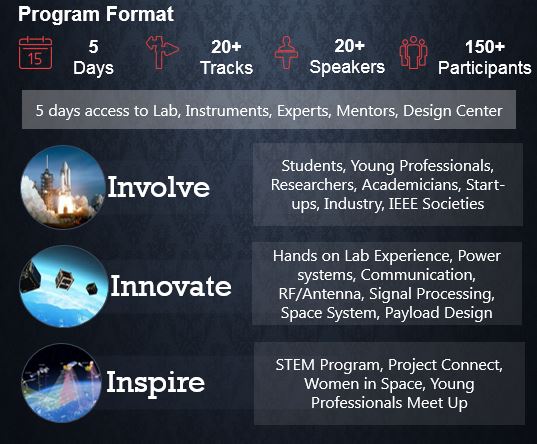 KEY TOPICS OF PROGRAM
Orbital Dynamics – Modeling orbits, spacecraft position, velocity for Earth observations using orbitron software and altitude determination using Princeton satellite toolbox.

Space Environment – Understanding differences between designs for terrestrial and space applications with a focus on thermal control systems modelled using the Matlab Princeton Satellite Toolbox.

Space Avionics – Principles for data handling and communications for spacecraft highlighting protocols, analog sampling, and scheduling emulated using Arduinos.

Attitude Determination and Control – Combining principles of orbital dynamics and control systems to use sensors and actuators for pointing the spacecraft. Emulated using Arduinos with peripheral sensors and actuators.

Power Systems – Acquisition, storage, and distribution of power for spacecraft with accompanying lab using solar cells and battery chargers.

Telemetry and Command Interfaces – Calculations of link budgets for Earth-to-Space communications. Testing protocols, modulation techniques, and data transmissions through hands-on laboratory experiments.

Communication Antennas – Design and implementation considerations for high directivity antennas.

Space Systems – Principles of space systems design for different types of missions ranging from nanosatellites to large Earth observation spacecraft.

Spacecraft Systems – Interdependencies of spacecraft design evaluated through concurrent design principles.

Launch and Operation – Launching of rockets and stratospheric balloons to teach principles of ground operations, tracking, and operation of payloads remotely.
The detailed program schedule is available at YPinSpace Program
Note: Due to space and limited lab access the event is only limited to 160 seats. The early bird registration expires April 15, 2018. The registration fees include lunches, coffee breaks, materials for the lab session, transportation to launch site on July 21, 2018. Certification will be provided