Description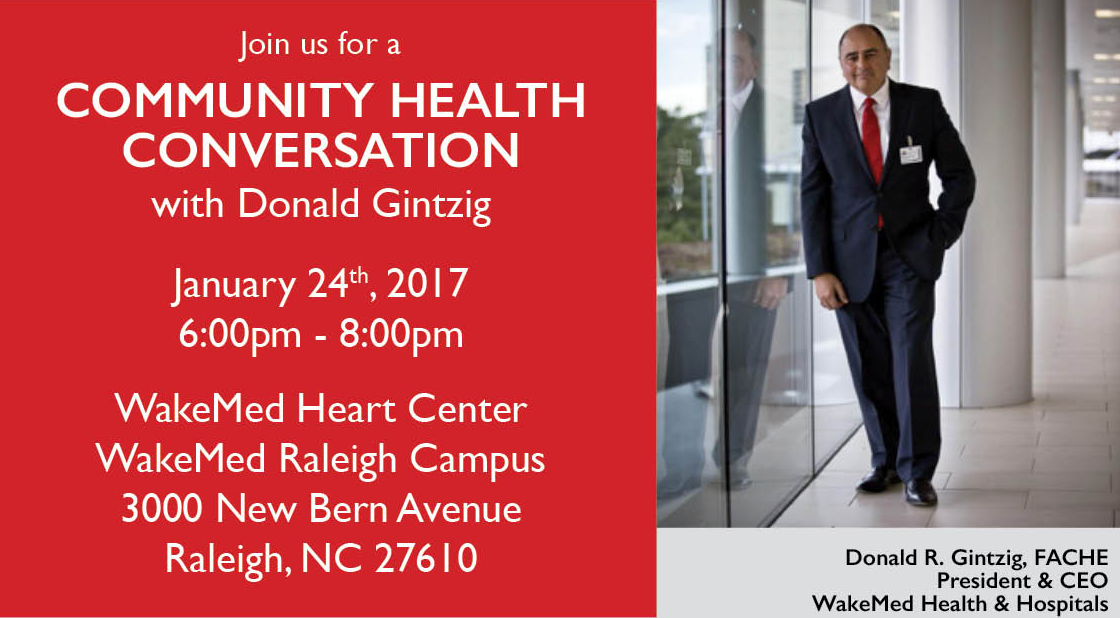 Join the Alliance Young Professionals, Friends of WakeMed, SAFEchild Young Ambassadors and Poe Young Professionals for a conversation with WakeMed President and CEO Donald Gintzig about our county's Community Health Needs Assessment, This event is free and open to the public, and light refreshments will be available. Representatives from the host organizations will share about their mission, young professionals group, and volunteer opportunities.
What is the Community Health Needs Assessment: The Community Health Needs Assessment is the foundation for improving and promoting the health of community members. The needs assessment process helps identify the issues affecting our county, determine the resources needed to address these issues, and develop a plan of action to make our county an even better place to live, work and play. Wake County hospitals, agencies, citizens and leaders participated in the first steps of the Community Health Needs Assessment, identifying health insurance coverage, transportation, access to health services and mental health & substance abuse as the four priority areas to address over the next three years.
About Donald Gintzig: Donald Gintzig joined WakeMed Health & Hospitals as interim president & CEO on October 25, 2013 and was named the new president & CEO in May 2014. In this role, he is responsible for leading the 884-bed, private not for profit teaching and tertiary health system with more than 8,500 employees, 1,200 physicians on its medical staff, 1,500 volunteers and one million patient encounters each year. WakeMed has two acute care hospitals, the highest level of critical care available in Wake County, a Level 1 Trauma Center and seven emergency departments, a Children's Hospital, the area's premier heart center, a full-service rehabilitation hospital, numerous outpatient facilities and primary and specialty care physician practices. Donald served as Co-Chair of the 2016 Community Health Needs Assessment.
About the hosts:
Alliance Young Professionals: The Alliance Young Professionals (AYP) are a group of young Triangle professionals serving as volunteers, supporters, ambassadors and leaders of Alliance Medical Ministry, a non-profit medical clinic providing affordable, quality and comprehensive healthcare to working, uninsured Wake County adults.
Friends of WakeMed: The Friends of WakeMed is a network of individuals working to make a difference in our community through building personal and corporate relationships to support the mission of WakeMed Health & Hospitals (WakeMed).
Poe Young Professionals: The Poe Young Professionals (PYP) is a volunteer organization supporting The Alice Aycock Poe Center for Health Education based in Raleigh, N.C. PYP comprises young professionals who are interested in donating their time, talents and ideas to support the Poe Center's delivery of health education programming for North Carolina children, youth and their families. It is the mission of the PYP to empower young professionals to make a difference in the lives of children through fundraising, volunteer service and social networking.
SAFEchild Young Ambassadors: The SAFEchild Young Ambassadors is a network of young professionals working to make a difference in our community by supporting the mission of the organization. SAFEchild's mission is to eliminate child abuse in Wake County by helping adults and children create nurturing environments free from abuse and neglect.
Directions to Heart Center:
• From 440, exit 13 onto New Bern Avenue.
• Proceed on New Bern Avenue approximately 1 mile.
• Enter WakeMed on the left at the Visitors Entrance (near the Heart Center, not Emergency Services).
• Proceed to 'P1' Visitors parking just beyond the Heart Center on your right. Park on the 3rd Floor and walk across bridge
• Please bring your parking ticket with you for validation.
• Access WakeMed's Main Reception Area through the pedestrian bridge located on the 3rd floor of the parking deck
• Once inside the main lobby, take a left down the glass walkway
• Follow the hallway until you reach the Heart Center
• Take the elevator to the 3rd floor – Heart Center Inn