Description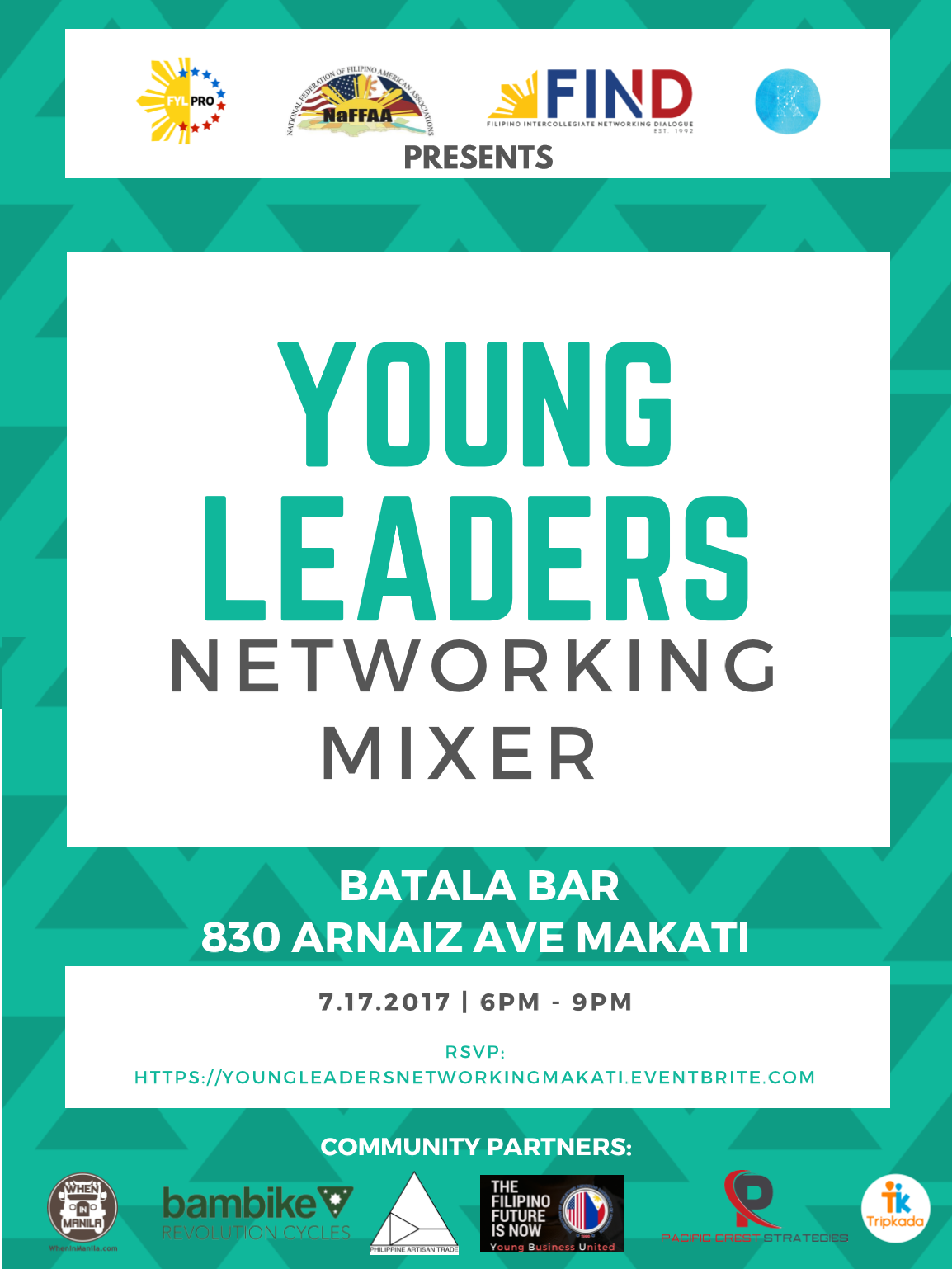 Join FYLPRO, NaFFAA, FIND,Inc. and Kaya Co.
July 17th Monday 6-9PM
Batala Bar
830 Arnaiz Ave Makati Metro Manila
6:00-7:00 Networking and cocktails
7:00-8:30 Panel discussion on Leadership
8:30-9:00 Networking and Cocktails
Join some of the most influential recognized and respected Filipino American leaders from various industries and organizations to network, drink and talk about the current state of leadership, challenges, and advances in the Filipino and Filipino American disapora.
We are at a time where leadership in various industries in the US and Philippines make you go WTF?!!! A group of next generation community leaders from the US and Philippines have decided not go with the "Bahala na" and "Ganyan lang talaga" mentality and to distrupt and improve the standards of leadership within our own communities and different industries.
Speaker Bio:
Jason Tengco, Executive Director, National Federation of Filipino American Associations (NaFFAA)
Jason Tengco serves as the Executive Director of the National Federation of Filipino American Associations (NaFFAA), the largest national affiliation to represent the 4 million Filipino Americans throughout the United States. Over the past decade, Jason has worked for a presidential campaign, the White House, Obama Administration, Congress, and numerous non-profit and campus organizations.
In 2016, Jason served as the National Asian American and Pacific Islander (AAPI) Outreach Director for Hillary Clinton's presidential campaign. Jason led AAPI voter engagement and Get Out The Vote efforts, helping Secretary Clinton win 79% of the AAPI vote, the highest of any presidential candidate in recorded history.
From 2012 to 2016, Jason worked for the White House Initiative on AAPIs, where he was appointed as Deputy Director in 2015. During his tenure, Jason organized the first-ever White House Celebration of Filipino American History Month, managed the White House Summit on AAPIs, and led the Initiative's national AAPI community engagement.
Throughout his career, Jason has participated in fellowships with the Asian Pacific American Institute for Congressional Studies in the office of former Congressman Mike Honda, New Leaders Council, Asian Pacific American Labor Alliance, Center for Progressive Leadership, and Public Policy and International Affairs Program. He has also served as a delegate to the Association of Southeast Asian Nations (ASEAN) Young Leaders Summit in Malaysia in 2015, and the Filipino Young Leaders Program (FYLPRO) in the Philippines in 2014.
Born and raised in the San Francisco Bay Area, Jason graduated from UCLA with honors with a B.A. in Political Science. At UCLA, Jason was heavily involved with Samahang Pilipino and received the Outstanding Pinoy Leadership Award.
Rexy Josh Dorado, Founder, Kaya Co.
Rexy Josh Dorado is an entrepreneur and writer working to harness media, technology, and community networks to strengthen the global Filipino community. He is the founder of Kaya Collaborative, a nonprofit that connects young leaders from the Filipino diaspora to opportunities in the Philippines, and Archipelago Labs, a consultancy and venture studio that experiments with new ways to activate the Filipino community in the Philippines and beyond.

Rexy previously worked at Ashoka, a global network of social entrepreneurs and changemakers, and is heading the content strategy for Amihan Global Strategies, a tech company accelerating digital transformation in the ASEAN region. In that role, he co-wrote Ready or Not, the first Filipino book on digital disruption, with tech entrepreneur Winston Damarillo. Rexy graduated with a Bachelors degree in Economics from Brown University in 2014.
Andrew Esmele, FIND
Andrew Esmele is the current National Chairperson, Filipino Intercollegiate Networking Dialogue, Incorporated (FIND, Inc) as well as the Maryland State Chair for the National Federation of Filipino American Associations (NaFFAA).
From local to regional student leadership Andrew has served in various capacities from National Public Relations Officer to Cultural Chair, leading an annual iniative with the Philippine Embassy and the local collegiate community. Born and raised in the Washington, DC Metropolitan area, he's currently in his Senior year pursuing a Degree in Public Relations at George Mason University.
Bryan Benitez McClelland, CEO, BamBike Eco Tours
Bryan is a Filipino-American environmental consultant, ecoutourism developer, social entrepreneur, and educator. While working on his Masters degree in Environmental Resource Management at the University of Pennsylvania, he became involved with Gawad Kalinga (GK), a community development program based in the Philippines. After helping GK kickstart their green building program, called Green Kalinga, he founded Bamb EcoLogical Technology, Inc. in order to have a platform for his socio-ecological enterprise projects. He works with community members of a GK village in Victoria, Tarlac called Bambuilders. Bambike, a premium bamboo bicycle line is the flagship product of the company. Bambowtie was conceptualized soon after in order to upcycle the bamboo scraps and off-cuts from the Bambike building process. After 9 years of living and working in the Philippines he is still fueled with an obsession for bamboo and social enterprise development. Bryan's goals are to promote new green economies with appropriate environmental technologies and to create jobs for the people the need them the most. McClelland is now also working as the Director of Sustainability at Enderun Colleges. His team is establishing a pioneer undergraduate program in sustainability focused on social entrepreneurship, food systems and ecotourism development.
April Cuenca, CEO, Tripkada
April Cuenca is the Founder and CEO of Tripkada, an app for trip-pooling in the Philippines, where you can join trips organized by fellow travelers. Her passion for using travel as a tool for development has led her to work a variety of positions in the industry, including travel consultancy, development, and marketing. She aims to completely explore the Philippines by traveling to all 81 provinces. She has so far covered 71 provinces at 27 years old.
Moderator:
Lakhi Siap, Immersion Program Director, FYLPRO. CMO Young Business United.
Lakhi Mangharam Siap was born and raised in Cebu City Philippines to an Indian mother and a Filipino and Chinese father. Being raised with both cultures in his home was never a boring moment in his upbringing. He graduated from Philippine High School for the Arts on a 4-year theater scholarship. He immigrated to Chicago in 2006 and immediately became involved with the Asian American community and began volunteering for various non-for-profit organizations.

He saw there was so much disconnect and miscommunication within the Asian American community that in 2010 he co-founded Ascene Chicago, a multicultural creative media marketing agency that promotes unity within the Asian American scene. Ascene has been able to work and collaborate with various corporations and government entities such as Mcdonalds, Pepsico, AT&T and the Central Intelligence Agency.

He currently continues to volunteer and serve as a board member for numerous for profit and non-profit organizations such as Young Business United and Pacific Crest Strategies. He regularly travels back and fourth to the Philippines doing speaking engagements and organizing trade missions encouraging Filipino Americans to do Business in the Philippines. He currently chairs this year's FYLRPO immersion program. Lakhi's goal is to strengthen, unite and bring the Filipino and Filipino American community to a whole new level.

Community Partners:
Tripkada is a mobile app for joining crowdsourced group trips.
Trips are organised by members of our community of travellers vetted and curated by Tripkada.
Tripkada is powered by FlipTrip.PH, an online travel agency that focuses on creates unique experiences in off-the-beaten-path destinations in the Philippines by connecting travellers to small local communities.

An initiative of the Federatrion of the Filipino American Chambers of Commerce (FPACC) to involve young Filipino Americans in exploring the opportunities in the high growth market of the Philippines.
Connecting the 2nd gerenation Filipino Americans in the USA to work together with young leaders in the Philippines to create a unified mobilization of youth to be involved in the Philippines.
Within 4 sectors: Business, Government, Arts and Culture, and Humanitarian/Community, the YBU program will create concretesteps on how the young Filipinos will shape their vision of the Philippines by 2030
WIM is the top online magazine in Manila and the Philippines. We are a community of writers, photographers, videographers, artists, storytellers and travel junkies who share our fun experiences through our various social media accounts. WhenInManila.com gets up to and over TEN MILLION (10,000,000+) IMPRESSIONS PER DAY based on an audit by a globally leading digital marketing firm. This included over SIX MILLION (6,000,000+) views per month directly on our website, along with our social media outlets which have very active communities of TWO MILLION (2,000,000+) Fans on Facebook.com/WhenInManila, 100,000+ Followers on Twitter.com/WhenInManila and 200,000+ followers on Instagram.com/WhenInManila, which from these alone already garner over 50 million social media impressions per week. (stats as of May 2016)
Pacific Crest Strategies (PCS) is a consultancy firm whose goal is bridge B2B Pacific gap and help governments and companies between the United States and Asia to reach their highest potential. We are passionate about providing services to businesses that enable them to focus on what they do best. From Marketing, to Operations, to Strategy – we will help your company to serve your customers the way they deserve.