Description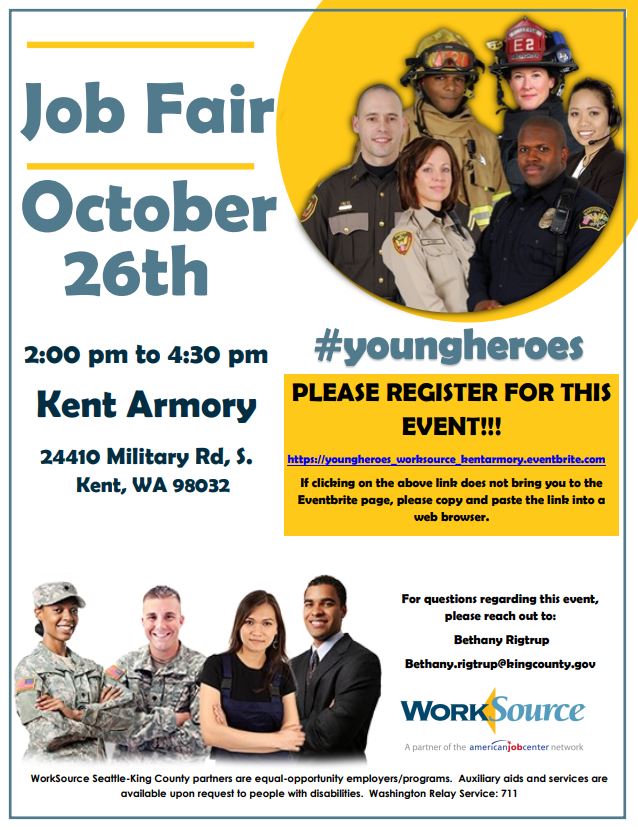 What: Young Adult Job Fair (Target Age, 16-24 but open to the public)

Types of Employers: This event is focused specifically on "Hero" jobs. You will see most of the military branches representented as well as branches of the guard and reserves. Local police, fire and EMT services will be represented as well.
Come to learn how you can begin a rewarding career as one of our local or national Heroes!
Where: Kent Armory, 24410 Military Rd. S. Kent, WA 98032
When: October 26th from 2pm-4:30pm
We would like to invite you to host a table at our "YoungHeroes" job fair that will be hosted by the Kent Armory on Thursday October 26th from 2pm-4:30pm.
We are hoping to include all local hero branches of the military, armed forces, guard and reserve branches as well as local fire, police and EMT services.
Please feel free to bring friends and family who are also interested in these opportunities.
Please reach out to Bethany Rigtrup- bethany.rigtrup@kingcounty.gov with any questions about participating in this event.
**NOTE- YOU DO NOT NEED TO BRING YOUR TICKET WITH YOU, PLEASE JUST REGISTER**
Date and Time
Location
Washington Army National Guard (Kent Armory)
24410 Military Road South
Kent, WA 98032