Location
Young Harris College
1 College Street
Young Harris, GA 30582
United States
Come join us for the 2022 Beekeeping Institute May 18 - 21, 2022!
About this event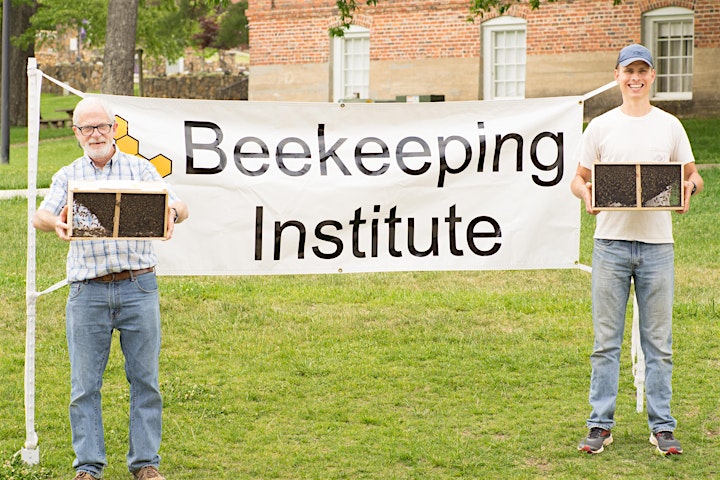 Young Harris College/UGA Beekeeping Institute at Young Harris College - May 18 - 21, 2022
Summary of the Institute
This marks the 30th year of the Young Harris College / University of Georgia Beekeeping Institute. Since its inception in June 1992, the Institute has grown from a small local outreach event into one of the most well-known and distinctive beekeeping educational showpieces in the country. Drawing upon the tradition of its predecessor, the Beekeeping Shortcourse formerly held each year in Athens, the Institute has never wavered from its commitment to delivering science-based recommendations on all aspects of bee management. We offer classes and topics of interest for everybody, whether you are a beginner, side-lliner, full-timer, or simply keep one or two bees hives for their ecologic and pollinations benefits. We achieve this breadth of coverage by drawing on a core of committed and experienced volunteer instructors along with an annually changing retinue of guest speakers representing industry leaders and the most prestigious bee scientists in the English-speaking world.
Held on the campus of young Harris College, situated in the heart of the beautiful Blue Ridge Mountains, the Beekeeping Institute is a four-day event with separate curricula for beginners and more experienced beekeepers.
Schedule of Events
Besides offering classes for beekeepers at all levels of experience, the Institute sponsors the optional Georgia Master Beekeeper Program and the Welsh (U.K.) Honey Judge certification programs.
Wednesday is dedicated to training and certification examinations for enrolled Journeyman, Master and Master Craftsman candidates, as well as the Welsh Honey Judge qualifications. We are also offering training for a newly-created state certification - Honey Bee Control and Removal Operator. Details for these optional programs are included.
The Institute proper, Thursday, Friday and Saturday, features a 2-track system: one set of programs is highlighted as pertaining specifically to less-experienced beekeepers; the other for those beekeepers with more experience. However, the format is open and all Institute participants can pick and choose among all of the lectures, workshops and demonstrations offered. Exceptions apply to certain classes with pre-enrollment limits and additional material fees.
Friday will feature the presentation of Certified, Journeyman and Master Beekeeper certificates, and the new Welsh Honey Judges.
Improved Honey Show
One of the most rewarding opportunities of the Institute is th annual Honey Show. Besides categories in honey, the Honey Show includes classes in photography, art, candles, section comb honey, mead and beekeeping gadgets.
This year Senior Honey Judge, Michael Young of Belfast, Northern Ireland, will be assisting in the judging. We urge students to participate in the Honey Show, even if you've never competed before, because this is an excellent opportunity to learn from one of the world's best honey judges. It costs nothing extra, it's a fun way to see how your honey compares to others'. AND, this year there's $1000 in cash prizes!
For information about the honey show rules and regulations, https://bees.caes.uga.edu/yhc-uga-beekeeping-institute/welsh-honey-show.html
Vendors
In addition to the curricula, the program is enhanced by respected, regional purveyors of beekeeping supplies, and other related paraphernalia. Their attendance offers the convenience of browsing among a wide variety of beekeeping-related resources and gifts without concern over shipping charges.
Cost for attending the Young Harris/Beekeeping Institute
Adult Thursday - $120
Adult Friday - $120
Adult Saturday - $55
Adult Thursday & Friday - $235
Adult Friday & Saturday - $175
Adult Thursday - Saturday - $275
Child Thursday - $90
Child Friday - $90
Child Saturday - $40
Chiild Thursday & Friday - $180
Child Friday & Saturday - $130
Child Thursday - Saturday - $190
Young Harris Student - $110
Minors are defined as 17 or under and must be accompanied by an adult; verification required
Optional Programs and Optional Program Costs
Georgia Master Beekeeper, Welsh Honey Judge Programs & Georgia Honey Bee Control and Removal Operator Certification
These fees are in addition to regular Institute registrations as indicted. Different programs have different minimum attendance requirements.
This is the first year that we are offering training for Georgia Honey Bee Control and Removal Operator - https://bees.caes.uga.edu/beekeeping-resources/certifications.html
The Certified Beekeeper exam has three (3) parts: a written exam, an indoor practical and an outdoor practical. Sign-up for your practical exams (15 minute time slot) at registration desk.
Optional Programs Cost
Certified Exam (requires Thursday & Friday regular Institure registration) - $45
Journeyman Exam (all exams on Wednesday) - $55
Master Exam (all exams on Wednesday) - $55
Master Craftsman (all exams on Wednesday) - $75
Welsh Honey Judge Level I Candidate (requires minimum Wednesday lectures and Friday regular Institute registration) - $55
Welsh Honey Judge Level II Judge (requires Thursady and Friday regular Institute registration) - $65
Welsh Honey Judge Level III Senior Judge (requires minimum Thursday and Friday regular Institute registration - $55
Honey Bee Control and Removal Certification - $45
Extra Materials Fees (payable at the registration desk)
Make-your-own beekeeping field toolbox - $45
Note: Check your intention to attend the toolbox class under add-ons on the registration page; however, you will pay at the registration desk. Also registrants must sign-up for a class time at the registration desk to ensure attendances equitably spread, 10 students per class.
For questions or information concerning the Institute, please contact the UGA Bee Lab at ugabeelab@gmail.com or 706.769.1736 or 706.542.2816.
Questions about the Welsh Honey Judge Certification, please contact Brutz English at brutzenglish@gmail.com or 770.843.2110.
Questions concerning the Honey Bee Control and Removal Certification, please contact Dr. Keith Delaplane at ksd@uga.edu.