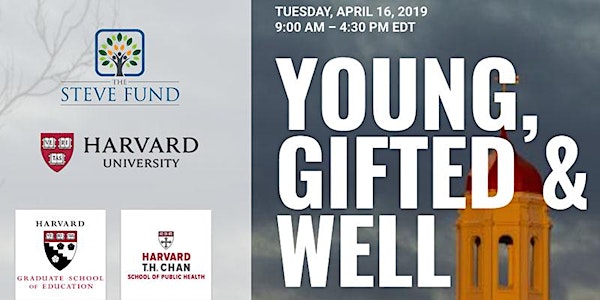 Young, Gifted and Well: Mental and Emotional Wellness for Students of Color
An event to address mental health and emotional wellness for college students of color. Full and half-day options available.
By Harvard University and The Steve Fund
Date and time
Tuesday, April 16, 2019 · 9am - 4:30pm EDT
Location
Student Organization Center at Hilles 59 Shepard Street 3rd floor/Penthouse Cambridge, MA 02138
About this event
Harvard University and The Steve Fund present a day-long convening with leading researchers, practitioners, administrators, faculty and students who seek to better understand mental and emotional health experiences of young people of color within Harvard University and how we can better support wellness through policy and practice. PLEASE BRING your mobile device for interactive modules.
The conference runs from 9:00 a.m. to 4:30 p.m. Admission is FREE but seats are limited and pre-registration is required. Registration will close when all seats are filled. Full and half-day options available.
Registration and continental breakfast start at 8:30 a.m. Lunch available for full-day registrants.
**ALSO AVAILABLE ALL DAY**
#consciousharvard traveling board, sponsored by #consciousharvard project team: an interactive board for public spaces to create action-focused dialogue about diversity, inclusion, equity and belonging at Harvard. The #consciousharvard project team is composed of staff members from Global Support Services, Common Spaces, the Center for Workplace Development, and the Faculty of Arts and Sciences, and is funded by the President's Administrative Innovation Fund 2018 (PAIF).
Self-Care Room, sponsored by Harvard University Health Services: featuring coloring sheets, drop-in meditation, mats and pillows for quiet respite, recommended Mindset apps and podcasts, stress balls, etc. Facilitated by Harvard's Center for Wellness, Office of Sexual Assault Prevention & Response, and University Disability Resources.