Sales Have Ended
Registrations are closed
Thank you for your interest in Young Entrepreneur Training. The current class has closed. Please contact our program director for the next class opportunity in your area. Sedric Hill, Program Director sedrich@corchurch.org
Event Information
Location
COR AME Church
45 Tesla
Irvine, CA 92618
Sales Have Ended
Registrations are closed
Thank you for your interest in Young Entrepreneur Training. The current class has closed. Please contact our program director for the next class opportunity in your area. Sedric Hill, Program Director sedrich@corchurch.org
*** NEW DATES *** The Young Entrepreneur Academy (YEA) is a 5-day business Training program for High School Students in South Orange County
About this event
The Innovative Young Entrepreneur Academy (YEA) Summer Camp is a COR Community Development Corporation (CORCDC) 5-day Training program and loan fund aimed at promoting entrepreneurship for High School students. YEA is part of CORCDC's overarching Entrepreneurship development strategy designed to empower young entrepreneurs from low-to-moderate income backgrounds to create and grow job-creating businesses, as well as to pursue higher education and career endeavors. Participants complete three modules: Business Basics; Leadership, and Business Idea Development. Each class culminates in a public pitch competition event where finalists present their business ideas to a panel of business leaders for a chance to win a $5,000 start-up loan! To date, YEA's loan fund has funded over $90,000 to 13 participants. YEA includes the CIT Bank |MLK Scholarship Fund, dedicated to supporting higher education, provides tuition-assistance grants to 20-25 High School and College Students annually.
Click Link to Download Flyer:
https://drive.google.com/file/d/17JrTQaoD2mBL1m6i3hMVmi8RGu38Pzrq/view?usp=sharing
Program Requirements:
This class will be in-person located at CORCDC 45 Tesla, Irvine, CA 92618.
The curriculum will cover:
Business Formation and Structure
Operations
Leadership
Financial Management
Business Plan Development
How to Create a Business Plan
How to Present a Business Pitch (Prepare for Competition)
Class format and structure include group discussion with interactive exercises and activities.
Lunch is served daily from 12:00 PM - 12:45 PM
Camp T-Shirts ($10 each) pay on site.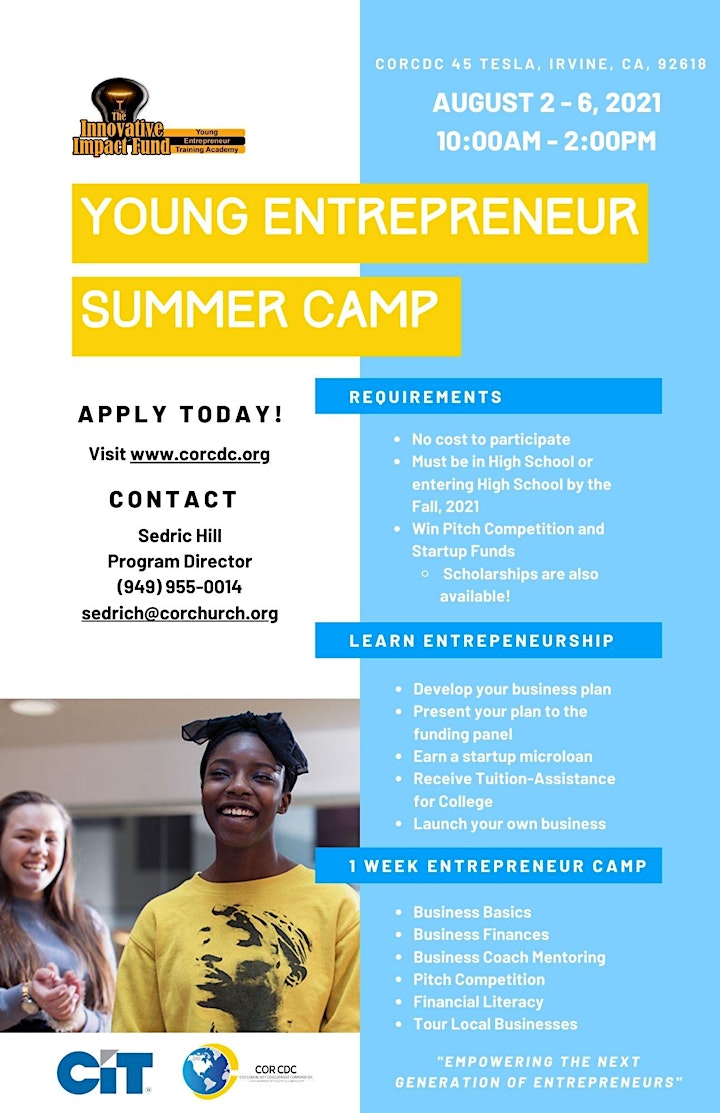 Date and time
Location
COR AME Church
45 Tesla
Irvine, CA 92618