Description
If your teen loves to cook, this camp is the perfect way for him or her to explore the professional kitchen and learn new cooking and baking techniques from our chefs. Fun and fantastic food awaits, in a full-day program of hands-on cooking, chef demonstrations, tours, lectures, and more. After a day of discovery and creativity, your young chef will have newfound confidence and pro skills they can build on and put to use back at home!
All participants must be dropped off at the Napa Valley Vintners Theater and signed in by an adult. At the conclusion of the program, adults must meet participants at the Napa Valley Vintners Theater for pick up and sign out.
(10+ only)
Class Category: Interactive Demonstrations & Hands-on Class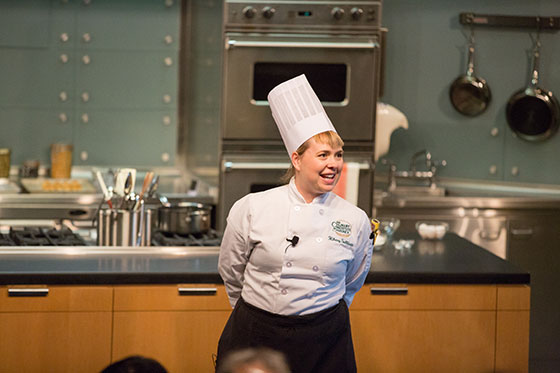 Your Chef: Hilary Powers
Chef Hilary's time in the kitchen started at an early age watching PBS cooking shows instead of cartoons and reading every recipe she could get her hands on. By 8 years old, she was cooking dinner for her family. Chef Hilary graduated from The California Culinary Academy in 2006. Before starting school, while in school, and after graduation she cooked and worked on creating menus for retreats, schools, institutions and even Skywalker Ranch. Through her own diet and curiosity, Chef Hilary has learned many different aspects in the culinary world such as raw, vegan, and gluten free diets; and has covered a wide exploration of global cuisine. A few years ago, she began teaching across the bay area, and truly discovered her passion: educating and empowering the home cook. Chef Hilary has her own vegetable garden and chickens that she tends to when she's not teaching public classes and demonstrations here at the CIA at Copia. Chef Hilary is our lead teacher for our Family Funday classes held each Sunday.