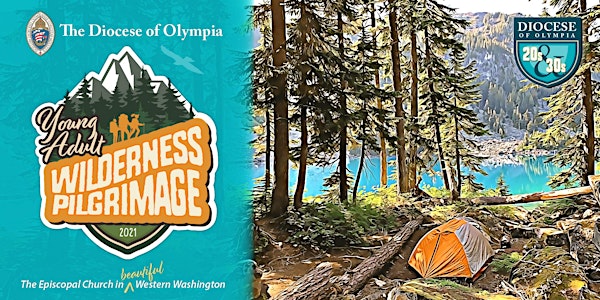 Young Adult Wilderness Pilgrimage
This summer grab your backpack for a 3-day trek into the Central Cascades with a group of young adults from around the Diocese.
When and where
Location
(Starts at) Camp Huston 14725 Ley Road Gold Bar, WA 98251
About this event
Pilgrimages can take many forms but this one is for adults in their 20s and 30s who are seeking a challenging outdoor experience, looking to make new friends, and are longing to re-connect with the wild beauty of God's creation.
This year's Young Adult Wilderness Pilgrimage will take us to the Alpine Lakes Wilderness Area in the Central Cascade mountains. We'll explore a series of lakes that culminates in a flat, high alpine wonderland nestled among a few peaks. It's been described as "the beauty of the Enchantments but without all the people."
Limited to 12 people from around the Diocese, this trek will be fully supported, with:
an experienced guide, Josh deLacy (bio. below);
a thoughtful itinerary that builds in time for fun and exploration;
all food included (Friday - D; Saturday - B, L, D; Sunday - B, L, D; Monday - B, L);
opportunities for connection, quiet time, prayer, music, journaling and meditation;
guidance in advance to make sure you have the gear you need to have a positive experience; and,
safe parking at Camp Huston with van transport to the trailhead.
Itinerary:
> Friday, July 30 - We'll gather at Camp Huston in Gold Bar, our base camp. We'll get to know each other, do a gear check, and distribute food and supplies. After dinner we'll spend the night in one of the camp's bunkhouses.
> Saturday, July 31 - 8:00 a.m. - Rise and shine for breakfast at Camp Huston, then vans will take us to the trail-head, about 30 minutes away. 8 - 10 mile hike to camp. Features: a beautiful valley, lakes, old shelter/cabin.
> Sunday, August 1 - Day hike to La Bohn Gap and/or Tank Lakes (5–10 miles). Features: high alpine, gorgeous lakes, historic mining artifacts, mountain peaks all around.
> Monday, August 2 - 8–10 mile hike back to the trailhead. Features: down-hill, late lunch at a greasy diner, bittersweet good-byes.
Cost:
$150/person. Scholarships available - reach out to faithformation@ecww.org
Vaccination Policy:
All participants will need to provide proof of a COVID-19 vaccination.
About Josh deLacy, our Fearless Leader...
Josh has served the Diocese of Olympia in various roles since 2014, including website designer, communications director, and a member of the pilgrimage planning team. He was a trail guide for the Diocese's 2019 Youth Creation Care Pilgrimage, and he has led backpacking trips up Mt. Rainier, Baker, Olympus, Shuksan, Fuji, and other mountains throughout the Pacific Northwest.
Packing list:
A more detailed packing list will be available after registration. Please know that we will do everything we can to help you get outfitted. Basically you will need:
Backpacking backpack
Sleeping bag & pad
All-weather clothes
Hiking boots
Optional: Trail runners or hiking shoes (there's a long approach before boots become all that useful)
Gaiters: there will be small snowfields in La Bohn Gap, and gaiters will keep snow out of your boots
Extra socks: crossing any snowfield, socks are gonna get wet. I'd bring at least one extra pair on top of the usual extra pairs
Bug spray: needed if we camp at a lower lake
Sunglasses: if it's sunny in the gap, the snow's gonna be bright bright bright