YOULEAD: Talent search event and Fashion show

Friday, June 27, 2014 from 5:00 PM to 8:00 PM (EDT)
Event Details
Do you have kids four years old and up that have hidden unrevealed talents? Weather its singing, musician, dancing, acting, magic etc. Bring them out to, Civic Building, 801 Veteran Plaza, Silver Spring, MD 20912 (Down Town Silver Spring, in front of the Majestic Theater),  June 27, 2014 From 6-8PM, Red Carpet start at 5PM, Dress to impress. This event was put together and sponsored by Luzs Foundation.  Extraordinary youth talents from diverse cultures get to be showcased for the world to see. A talent may just get discovered and be the "NBT" next big thing.   Kids will get the opportunity to act as mature adults and walk an exquisite red carpet. This is the first of the annual You Lead event. Enjoy a youth fashion show while indulging mercilessly delicious food.   Are you ready to lead?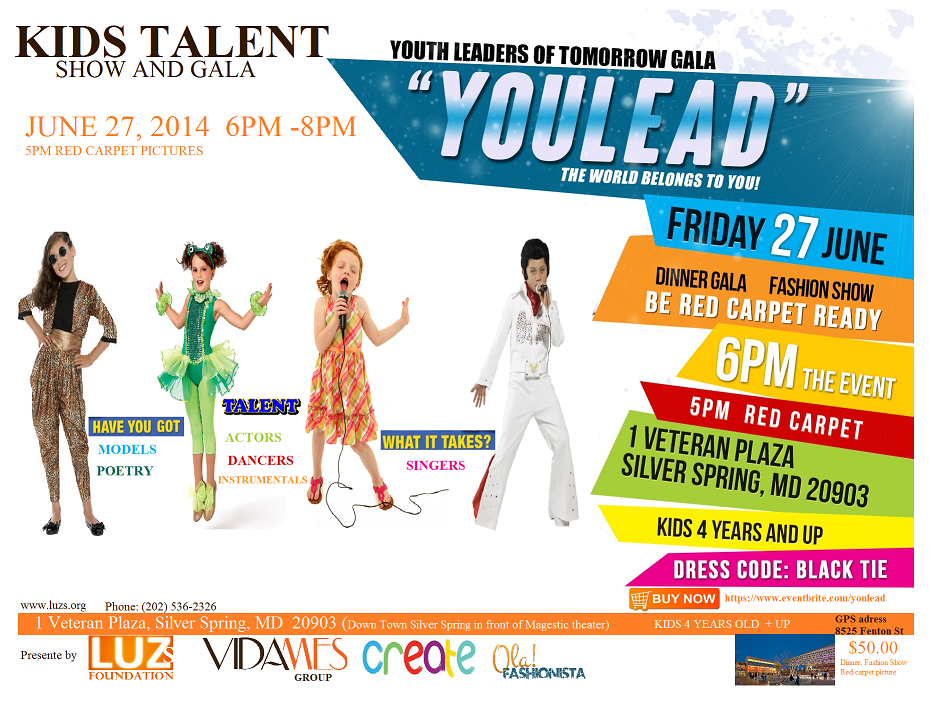 INFORMACION EN ESPANOL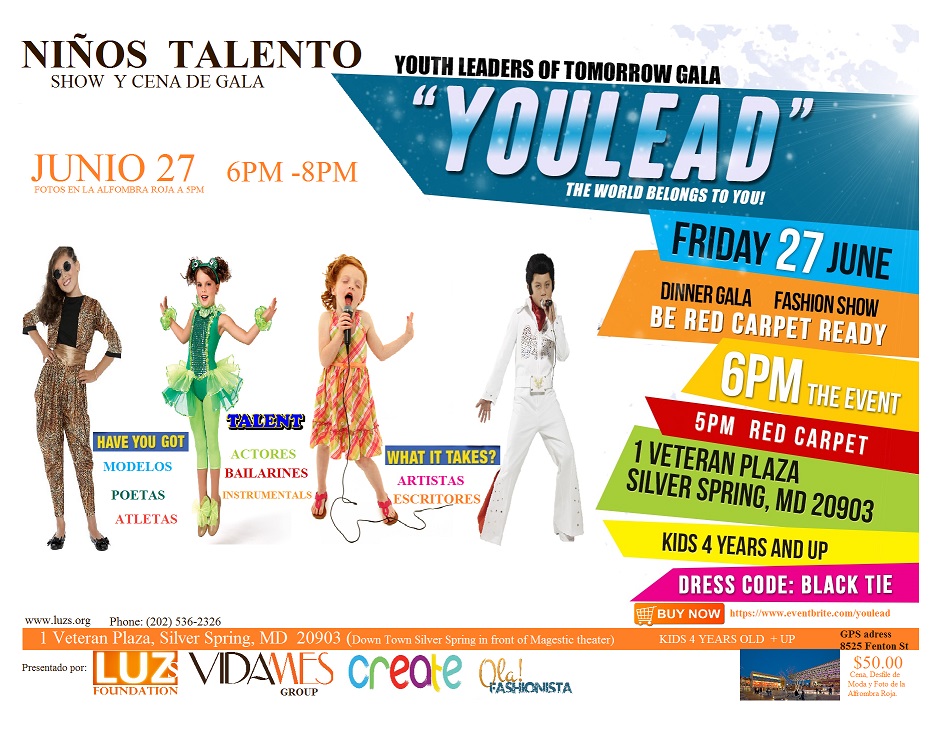 Join Luzs foundation celebrating our Youth leader of tomorrow.  Search for actors , actresses, models, musicians, voice-overs, and other performers!
Youth gala focus to celebrate kids achievement, up to 14 years old, in a very elegant and upscale enviroment. Conecting local youth leader's with other youth with same interst in music, art, sports and more.
The event will have a red carpet, media interview, fashion show, food, and pricesto .
Event time: 5pm to 8p
Redcarpet 5PM be ready
Dress code_ Black tie
Dress to impress
-------------------------------------ESPANOL---------------------------------------
Únete fundación Luzs celebra nuestro líder Juventud deL mañana.  Búsqueda de actores, actrices, modelos, músicos, voz en off, y otros artistas!
La Gala de la Juventud, celebrar los niños hasta 14 años de edad, en un ambiente muy elegante y de lujo. Conectando líder juvenil local con otros jóvenes con el mismo interes en la música, arte, deportes y mucho más.
El evento contará con una alfombra roja, entrevista con los medios de communicaciones, desfile de moda, comida, y mas.
Hora del evento 5pm a 8pm
Alfonbra roja comienza a las 5pm.
Bestimenta de lujo, Hombres-ninos traje y corbata
Ninas, bestidos largo y elegantes, bestite para impresionar.

When & Where

+Civic Building
1 Veteran Plaza
Silver Spring, md 20910


Friday, June 27, 2014 from 5:00 PM to 8:00 PM (EDT)
Add to my calendar
YOULEAD: Talent search event and Fashion show