Event Information
Location
IMRO
Copyright House, Pembroke Row, Lower Baggot Street
Dublin 2
Ireland
Description

Our music summit is aimed at songwriters, composers, artists, producers, publishers and those looking to learn more about the business through our masterclasses, panels, keynotes and one-to-one industry sessions. Have a look at the jam-packed and amazing line-up we have in store for you.
Our speaker line-up includes:
Keynote: Scott Cohen - Founder and VP International at The Orchard
Peter Astedt - CEO of DistroSong and A&R at Deadfrom Records
Lance Hogan - Film Composer/Music Producer
Robert Singerman - VP, International Publishing LyricFind
Aidan Butler - Head of Programming and Senior Music Producer at RTE
Ann Marie Walsh - Director at Novatone Music Media and Radio and Presenter at 8radio.com
Willie Ryan - Entertainment Lawyer
Chris O'Brien and Graham Murphy, Grammy-nominated music producers with over 30 years industry experience.
Steve Lindsey Owner, Elevate Music Limited
Eileen O'Gorman Partner at Gleeson McGrath Baldwin Solicitors
Oliver Cole - Multi-instrumentalist and songwriter
Martin Bridgeman -Broadcaster, Voiceover Artist & MC, KCLR96FM
Pete Holidai - Teacher of Music Management / Music
Production at BCFE
François Kreutz - CEO of imusic-school
Lance Hogan - Film Composer/Music Producer
Eleanor McEvoy - Contemporary Singer/Songwriter
Jimmy Costello, Director at Straywave Media
Janet Grogan, Irish singer and songwriter who competed on the 2016 series of The X Factor UK
Sinéad Keogh - Manager at OCC Chartered Accountant
Carol Keogh - Singer and songwriter

Hamlet Sweeney - Founder, The Nucleus - a Music publishing and production company

David Wilkinson, Senior Marketing & Membership Officer at Irish Music Rights Organisation (IMRO)

Donal Scannell, Founder of Snowfurnace, Gigstarter, Davidgray.com, 3345 and Scanarama

Ed Smith, 18 years experience at Today FM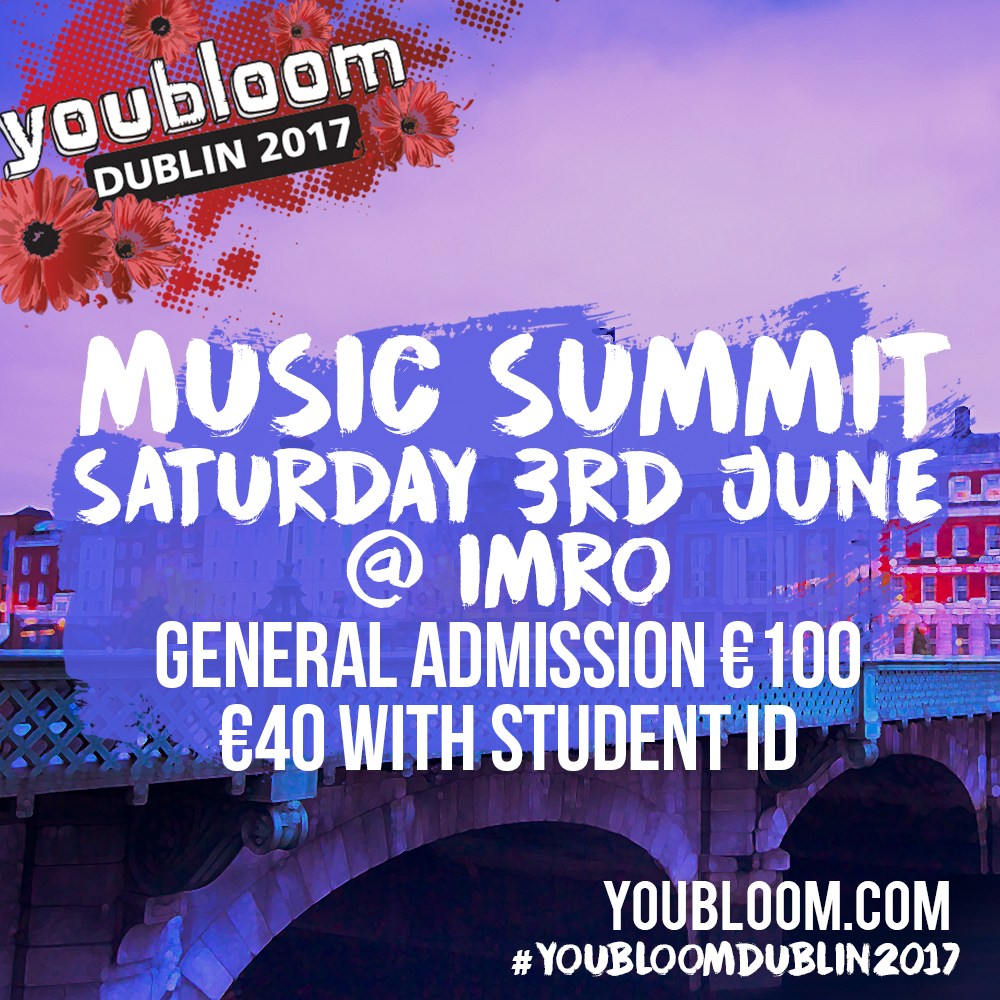 TIMETABLE
9:30 AM- 11:00AM – Speed Sessions (commencing with intro session – 1-2 min each person)
11:00 AM Panel: Music Business Lessons Learned – Musicians tell their tales of what they have learned along the way. Lots of tips, advice and time for questions. Donal Scannell (Lead), Oliver Cole, Dermot Lambert.
12:00 PM Masterclass: Online music lessons – Giving and learning from the best, earn income and make fans teaching music online." with Francois Kreutz.
12:00 PM: Panel: IMRO interview with Chris O'Brien and Graham Murphy from The Production Suite.
1:00 PM Lunch
2:00 PM Masterclass: youbloomConnect – Create the gigs you want with youbloomConnect with Jeff Burns and Phil Harrington.
2:00 PM Panel: New Business of Music – how is it changing – Eileen O'Gorman, Peter Astedt, Sinead Keogh, John McCallion, Willie Ryan.
3:00 PM Panel: Creating your own BIG BANG. The Song at the centre of the Universe – Steve Lindsey (lead), Eleanor McEvoy, Hamlet Sweeney, Robert Singerman, Janet Grogan.
3:00 PM Masterclass: Managing Your Own Career, tips, tools, methods…with Pete Holidai.
4:00 PM Panel: Old Media – New Media – Same Old Same Old?
How artists can gain exposure for the their work in 'new' digital age? with Martin Bridgeman (lead), Ann Marie Walsh, Ed Smith, Aidan Butler.
4:00 PM Master Class: How to get the most out of Spotify with Peter Astedt.
5:00 PM Keynote: Scott Cohen – (Co-founder, The Orchard) – The Future Is Not How It Used To Be – A look back to where we came from and a roadmap of where we are heading.
Date and Time
Location
IMRO
Copyright House, Pembroke Row, Lower Baggot Street
Dublin 2
Ireland