Come learn ukulele! Join teaching artist and musician Joanie Calem and Art Possible Ohio for a week of daily 45-minute lessons, Aug 2-5
About this event
YOU TOO CAN UKE: UKULELE 101 FOR TEACHING ARTISTS
August 2 - August 5, 10 AM- 10:45 AM, daily via Zoom
Are you not a musician but have always wished that you could pick up an instrument to add just one more enjoyable way to share art with students?
Are you a musician but haven't bothered to learn ukulele yet?
Come learn ukulele!
Join teaching artist and musician Joanie Calem and Art Possible Ohio for a week of daily 45-minute lessons in August. We will learn (at least) 4 chords that will allow you to play nearly every popular song that you or your students know. Ukulele is a simple instrument to learn and a (relatively) inexpensive instrument to buy.
What you need:
For this class, you can get either a soprano (the smallest with the highest tones), a concert, or a tenor ukulele. These three instruments are all tuned the same way, and we will be able to play beautiful music together (on Zoom 😊). For reference, see image below.
Here is a good article to read about the differences between the sizes: https://www.musicgoround.com/locations/elk-grove/ukulele-buying-guide
If you are interested in the smallest, a soprano uke, here are some options (any of these will be good except I would stay away from the plastic ones: https://www.musiciansfriend.com/search?typeAheadSuggestion=true&typeAheadRedirect=true&sB=r&fromRecentHistory=false&Ntt=soprano+ukes
If you are interested in the middle uke, a concert size uke, here are some options:https://www.sweetwater.com/c1053--Concert_Ukuleles
And if you are interested in the tenor uke, the largest of this tuning, here are some options:https://www.amazon.com/Tenor-Ukulele/s?k=Tenor+Ukulel
Questions? Contact info@artpossibleohio.org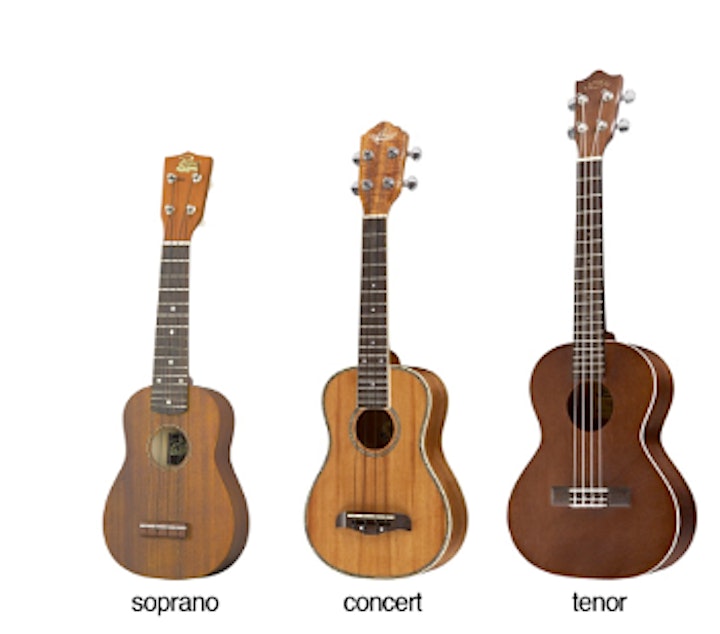 Organizer of You Too Can Uke: Ukulele 101 for Teaching Artists, August 2 - August 5