You Need a Break #13: Stickybuds, Marcus Visionary, Jules Bangsworth & Farb...
Description
---
ONLINE TICKETS SALES ARE NOW CLOSED, TICKETS WILL BE AVAILABLE AT THE DOOR.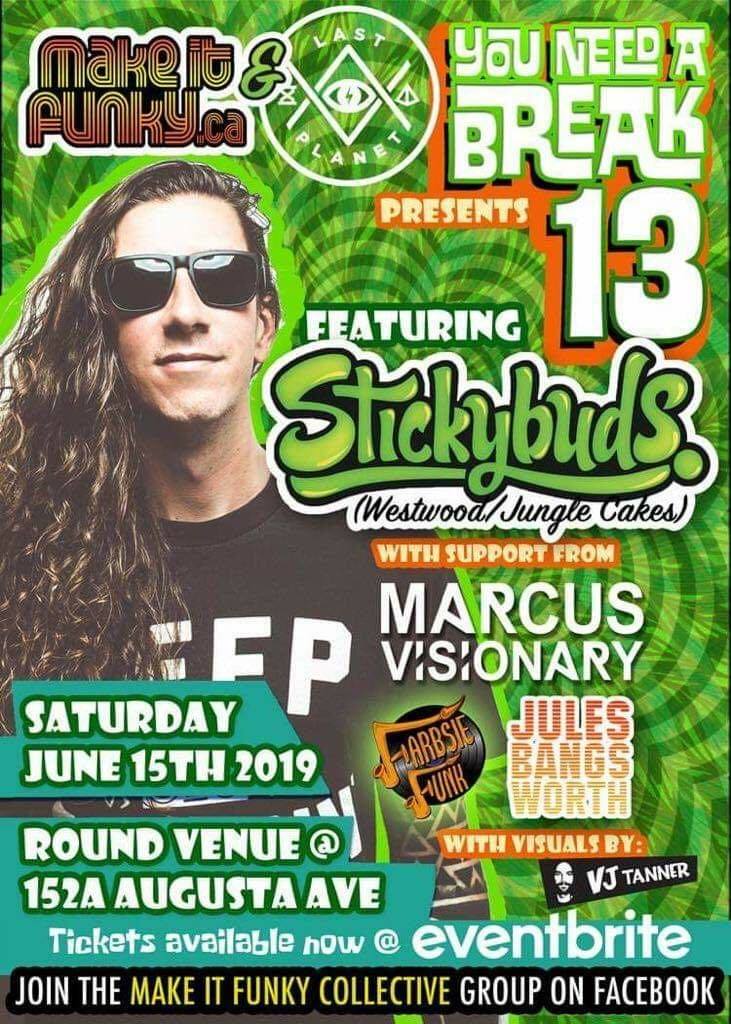 You Need a Break #13
Presented by Make it Funky & Last Planet
Saturday, June 15th, 2019
Round Venue - 152 Augusta Ave.
Join the Make it Funky Collective on Facebook: https://www.facebook.com/groups/makeitfunky/
Make it Funky & Last Planet are proud to present the return of the one and only Stickybuds with his signature west coast bass and supreme funky party rocking. As a DJ and Producer Stickybuds has become a powerhouse in the bass music scene for more than 14 years. His sets in the Fractal Forest as Shambhala have become must see events and have garnered the attention to build him a strong following around the world. We are excited to bring you Stickybuds in an intimate venue for a one of kind night of beats, bass 'n Breaks.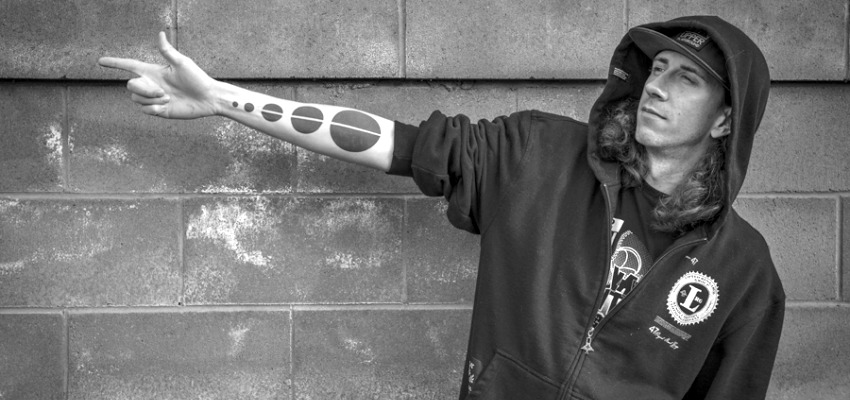 Stickybuds (Kelowna, BC)
www.stickybuds.com
There are few names in the vast world of west coast bass as synonymous with supreme funk party-rocking as the mighty STICKYBUDS. A DJ and producer with an immensely deep knowledge of and passion for grooves of any and all genres, Stickybuds has long established himself as a powerhouse of diversity and innovation in funky bass music. A resident of Canada's legendary Shambhala Festival for more than 14 years, his sets in the mythic Fractal Forest have become an integral part of many peoples' yearly pilgrimage to the bass paradise, as Stickybuds rains down a relentless barrage of funk, reggae, jungle, drum n' bass, breakbeats and whatever other grooves his diverse taste deems worthy.

A renowned DJ and producer, Stickybuds creates community wherever he goes – reflected in the inviting, warm environment he creates on a dancefloor and in his countless musical collaborations with an incredible array of other DJs, producers, MCs and live musicians. His 2017 track "Clap Ya Hands Now!" created with New Zealand funk-dealer K+Lab, smashed down the barrier between the west coast underground and the mainstream after it was featured in promotions for a trailer of the blockbuster film Spiderman: Homecoming. Fuelled by a relentless drive and passion for art, Stickybuds has been hard at work on his debut full-length album, Take A Stand. Released July 20 on Westwood Recordings, Take A Stand is Stickybuds at his funky best, determined to get people dancing while keeping conscious of the world around. It's a delicate balance that only the most skilled of artists ever master and few in the world of electronic music have managed to consistently keep. A palpable passion for keeping an eye tuned to social ills while maintaining a dedication to deep, heavy funk, makes Stickybuds one of those rare artists.

His immense and diverse talents have led to Stickybuds being invited to rock dancefloors across North America, Europe and beyond, including stops at some of the worlds biggest festivals like Glastonbury, Burning Man, Breakfest, Envision, Boomtown, Rainbow Serpent and more. It doesn't matter if you're rocking out with your headphones on a bus, dancing in your living room or surrounded by hundreds of other groove-seekers, Stickybuds is guaranteed to get you rocking and funking.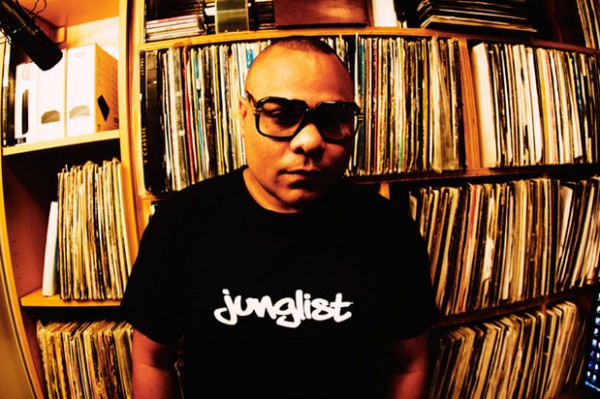 Marcus Visionary
www.facebook.com/djmarcusvisionary/
Marcus Visionary has been at the forefront of the Jungle DNB scene in Toronto Canada before it's very inception. He's often referred to as Canada's #1 DNB & Jungle export as well as being an ambassador for the ever evolving Jungle DNB sound worldwide. Marcus is one of the few artists out of North America who has built a strong foundation in the U.K & Europe as well as in the U.S. The journey started in 2004 when he was personally signed to the legendary Digital Soundboy family by Shy FX himself. Marcus joined the elite all star lineup alongside the likes of Benny Page, Breakage, Mark System, Stamina MC & B Traits. Since then he has travelled the world and played some of the biggest festivals representing his unique take on the Jungle DNB sound. Priding himself on upfront selection, clean mixing, musical versatility and a keen ability to read any crowd. Not to mention his collection of Dubplate specials which is something that has earned him fans the world over.

In his hometown Toronto, Marcus has been running the Prophecy on 89.5 FM for 20 Years alongside DJ Prime, Mr. Brown & Gremlinz. The program is North America's longest running Jungle DnB radio show and has been a integral part of the city's developing Jungle DNB music scene. In 2015 Marcus left the Prophecy in it's 20th year as he was asked to host his own exclusive radio show on the world famous Kool London (Kool F.M). You can catch Marcus the third Tuesday of every month from 2-4 EST 7pm-9pm GMT at www.koollondon.com.

After an immense run of critically-acclaimed success, leading to invitations to play at some of the biggest parties and festivals around the world. The last 3 years Marcus has been nominated as Best Jungle Producer at the We Love Jungle Awards, and being crowned Best Producer/DJ at the 2015 North American DnB Awards.

Hot on the heels of his massive LP Jungle to the World Vol. 1, 2016 followed with the extremely successful Jungle To The World Volume 2 & 3 with a stellar supporting cast, and the brand spanking new collaboration with NYC Junglist Liondub featuring select Dancehall, Reggae & Grime artists entitled 'Rumble'. Moving forward into 2019 Marcus has decided to focus his studio attention on his label 'Inner City Dance' with best friend and legendary Toronto DJ Lush. Get ready for loads of great music distributed worldwide via Cygnus distribution!
With a full European tour scheduled for Sept/Oct 2018, don't miss out on your chance to be part of it!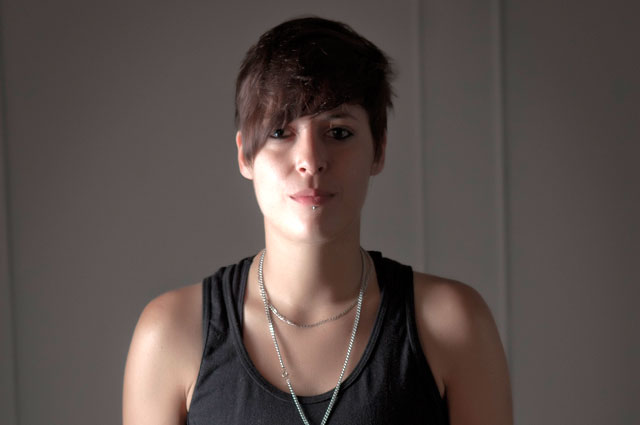 Jules Bangsworth
www.julesbangsworth.com
Toronto's newest import is award-winning, east coast half-pint party rocker Jules Bangsworth. Since stepping behind the decks over a decade ago she's hit the road from coast to coast, packing dance floors from Vancouver to Halifax. Her high-energy presence and expansive musical knowledge has taken her from the underground to the club to the festival stage and back again. Musically, if it's good for the vibe of the party than it's a possibility. In addition to taking home two Music Nova Scotia Awards this past year for DJ of the Year and Electronic Artist of the Year, she's slated for European and North American tours this summer, along with a steady gig schedule and slew of original productions set to release in 2018, she shows no signs of slowing down her work hard, play harder ethics.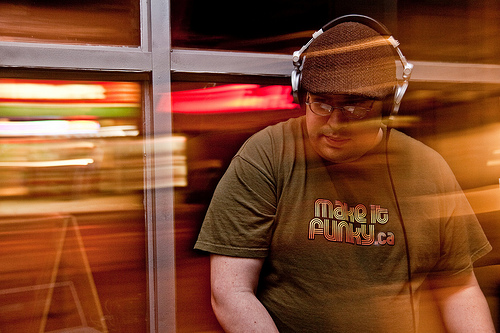 Farbsie Funk
www.mixcloud.com/farbsie
Farbsie Funk has been spinning funky breaks and bass music since 1996.