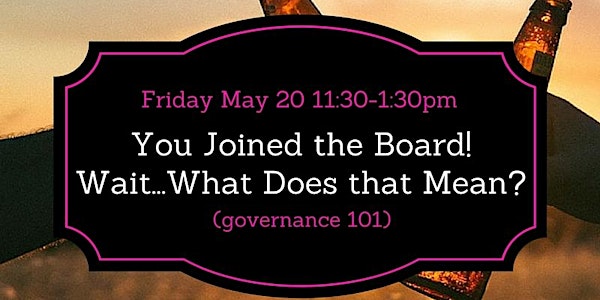 You Joined the Board! Wait...What Does that Mean? (Governance 101)
When and where
Location
Boulder YWCA, upstairs classroom 2222 14th St Boulder, CO 80302
Refund Policy
Contact the organizer to request a refund.
Description

BOARDS WITH BRAINS is SVP's open-to-all nonprofit governance education series. Join us for our 2016 trainings, like this one: This engaging conversation for new and experienced board members will explore the legal duties of service, the opportunity you have to support the organization, and how to best fulfill your own goals.
About this Session:
Please join us for a fun and informative exploration of the legal responsibilties of serving as a board member, best practice responsibilities for board service, and a practical guide for meeting these goals while building a strong partnership with staff leadership to best support the organization. And you can do all this and also achieve your own personal goals! We will outline tools and tips for first-time and long-time board members, as well as nonprofit staff members all grounded in governance best practice. Outcomes for the session include:
Understand legal duties and responsibilities of board service

Identify structures to cultivate strong board candidates and a best practice board of directors

Explore opportunities to best leverage a strong board in partnership with staff leadership to serve the organization
About our Presenter:
Kate Kalstein provides comprehensive governance, planning, facilitation and research services to nonprofit clients as Founder & Principal with Kate Kalstein Consulting. She received her law degree from the University of California, Hastings College of the Law, served as Legislative Counsel to the California Judges Association and Director of Policy & Planning at the Edgewood Center for Children and Families. Appointed by Governor John Hickenlooper in fall 2015, Kate proudly serves as Commissioner to the State Commission on Community Service, Serve Colorado. Today Kate is based in Denver where she remains actively involved through her nonprofit practice, ongoing leadership development and volunteer activities. Through every project and opportunity Kate enjoys working with nonprofits to embed strategic focus throughout daily operations and structures, and develop effective, efficient practice.
SVP Partners (donating members):
All SVP donating members including Partners, Family Partners, Associate Partners, Nonprofit Consultant Partners, Fellows, and Friends receive a 20% discount when registering for BWB by entering discount20 at checkout.
About the BOARDS WITH BRAINS series:
SVP Boulder County believes strong nonprofits deliver better results. For our nonprofits to be wildly successful, we believe strong leaders – both staff and board – help create adept organizations. Our BOARDS WITH BRAINS professional development series was designed with that in mind. We've got a variety of nonprofit leadership topics, as well as 'tracks' and levels to help attendees identify which sessions suit them best.
Our per-session fee is a below-market $40. Individuals or organizations can purchase a transferable, 8-punch pass (giving you a $10 discount on each ticket), and, each session also includes a limited number of scholarship slots (just ask).
Please note, SVP closes registration two days prior to each session and all attendees are asked to register in advance. Day-of drop in participants will be expected to pay on site with a credit card (please note, scholarship and 8-pack pricing is not valid for drop-in attendees), and should understand there may not be sufficient quantities of session handouts and materials available for them.
Find the full roster of classes in our 2016 BOARDS WITH BRAINS series on this page of our website.