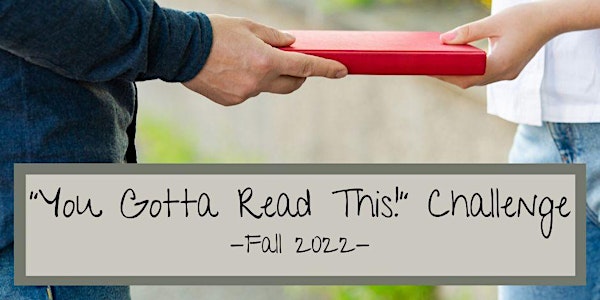 "You Gotta Read This!" Challenge
Read this compelling book, share with others, and help raise funds for our local community organization, C.I.T.Y. of Support.
About this event
Welcome to the 1st "You Gotta Read This!" Challenge! We would love for you to join us!
This brand new initiative is designed with the purpose of reading a compelling book and bringing the community together. Participants will register, read/listen to the book, recommend the title to others, and are invited to attend the exclusive, LIVE virtual author visit on Monday, Oct. 17th at 7:30pm! This challenge is meant to encourage participants to share information, learn, reflect, and start important conversations all while raising funds to sustain C.I.T.Y. of Support's meaningful programs--our primary fundraiser for 2022!
Based on parent recommendations within C.I.T.Y. of Support, we learned of a newly-published book called Forever Boy: A Mother's Memoir of Autism and Finding Joy by Kate Swenson, and just like those parents, we are confident that when finished, you'll want to share it with everyone you know--parents, teachers, therapists, physicians, friends, family, neighbors, etc! Her stories, themes, and lessons are relevant for parents with ANY child in therapy--this is not a book exclusively about autism. We believe that this challenge is the perfect opportunity to suggest that others listen, absorb, and reflect upon the parent perspective of navigating the needs of a child in therapy. This book will organically generate important conversations, and as a bonus...Kate herself will be joining us virtually for an author presentation/Q&A session on the last day of the challenge!
Your registration includes an exclusive link to attend a special LIVE, virtual visit with Kate Swenson, the author of Forever Boy on Monday, October 17th at 7:30pm. She will be talking about her own personal journey as well as answering YOUR questions. You are welcome to view this from the comfort of your own home or join us for a free, in-person viewing party at the Arlington Heights Memorial Library, as space allows--RSVP available during checkout. (And professionals--this presentation has been submitted for 1 hour of Early Intervention credit, currently pending approval.)
Her book is readily available at most local libraries for free in print or digitally as an e-book and/or e-audiobook on the Hoopla app, Cloud Library or Overdrive platforms. Choosing these free options allows all of your generous donations to go directly to C.I.T.Y. of Support. However, if you would like us to send you a copy (either e-audiobook or hardcover), please let us know upon checkout. We are hoping that participants will contribute a minimum of $25 to offset the cost of this challenge, although no one will be excluded from this program due to an inability to pay. Simply send us an email if financial assistance is requested: hello@cityofsupport.org.
C.I.T.Y. of Support stands for "Children In Therapy and You." We are a nonprofit organization based in Chicago whose mission is to create a dynamic community, both online and in person, that support all families navigating the needs of their child in therapy, regardless of diagnosis. All of our social, educational, and outreach programs are offered for families at no charge, as we strive to empower families with resources and celebrate their journey, while increasing awareness and acceptance within the general community. Our programs and events are meaningfully created, guided by our strong values of connection, collaboration, and celebration. And, as an organization currently run entirely by volunteers, we depend on the generous support from our community to help us sustain our efforts. We welcome you to watch our annual review or visit our website to learn more about how we connect, collaborate, and celebrate in our C.I.T.Y: cityofsupport.org.