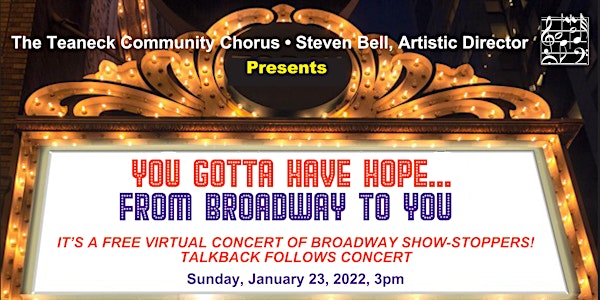 You Gotta Have Hope; From Broadway to You
Join us for a fun-filled concert full of hopeful and familiar songs to bring a smile to anyone's face during these trying times!
About this event
With omicron running rampant outside, we still have not been able to get back to a sense of normal life. There always seems to be an asterisk. But through all of the gray and hazy days, TCC believes that one day things will be better. Not only that, but that day is just around the corner! We thought that now was the time to begin celebrating life again, and what better way to do that than with Broadway? Our concert is filled with familiar songs from shows that we all love. How many remember singing Corner of the Sky? And who cannot help smiling when you hear Everything's Coming Up Roses? Come sing and smile with us as we celebrate Broadway, life and moving towards "normal". You Gotta Have Hope, through these trying times!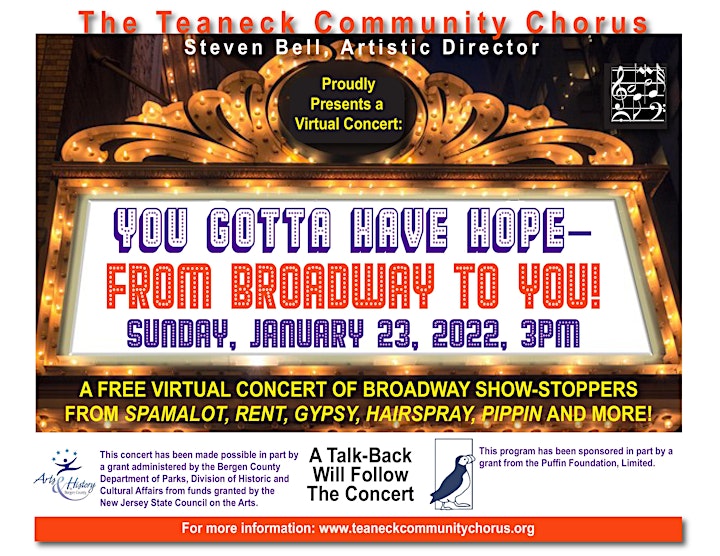 Organizer of You Gotta Have Hope; From Broadway to You