Dennis Hensley is back for another round of You Don't Know My Life!
About this event
The laugh-your-ass-off, red-hot party game is now a live, interactive stage show! A panel of local celebs share outrageous stories from their real lives and you have to guess whose story is whose!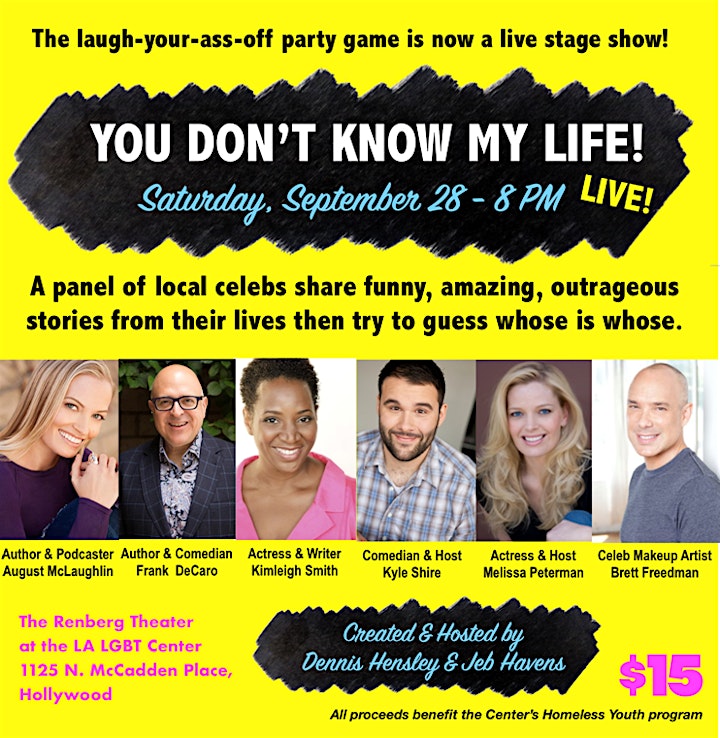 Organizer of You Don't Know My Life
The Lily Tomlin/Jane Wagner Cultural Arts Center is a program of the Los Angeles LGBT Center. Our theatres at The Village at Ed Gould Plaza include the Renberg Theatre, a 200 seat state-of-the-art theatre, and the Davidson/Valentini Theatre, a 50 seat black box theatre.
Since 1969 the Los Angeles LGBT Center has cared for, championed and celebrated LGBT individuals and families in Los Angeles and beyond.  Today, through our health center, shelters, performance stages and classrooms, we provide services for more LGBT people than any other organization in the world.  We are an unstoppable force in the fight against bigotry and the struggle to build a better world; a world in which LGBT people can be healthy, equal and complete members of society.