You Deserve It Weekend 2013

Multiple Dates
Event Details
Hi Ladies!
It's times to prepare yourselves and register for YDI Weekend 2013. We need this information on file for your protection and to determine how many rooms are needed. Your registrat
...
ion is not a guarantee or an obligation to participate in YDI Weekend 2013. You will be counted once we have received your non-refundable $50.00 deposit which will be due July 30th, 2012.

Please make sure you read and print a copy of the YDI Policy

http://freepdfhosting.com/

23b4618406.pdf before filling out the registration form. We have added new policies to protect LPG and our clients. We ask that you please do not fill out the registration form if you have any discrepancies with our policy. We understand that our services may not fit well with every client and you may choose not to participate.

Some of you have mentioned that others are interested in participating, please get in touch with them asap. Remind them to fill out the registration form.

Payments:

Payments can be made online, mail or given directly to me (Illinois Residents). If you decide to pay online there will be a processing fee (

http://

ydi2013.eventbrite.com/ ). Those that want to use the mailing system-please mail your payments a week before it's due to ensure that it arrives on time (see below mailing address). Residents of Illinois payments can be dropped off at my house to avoid stamps and processing fees.

Deposits Due July 30th

Deposits will not be accepted late. Any monies we receive after the 30th will be returned to the sender. Also your April payment will not be accepted late as well. If we receive your last payment late you will be assessed a $15 late fee (new policy).

In addition, the e-mail address that you registered with will be the e-mail address we use. Please make sure you check your e-mail box for updates. If you would like to change your e-mail address, please let us know by e-mail.

Checks Payable to: Lifework Professionals Group

Mailing Address:
YDI Weekend 2013
Attn: Bernadette Washington
3660 North Harrier Rd, Ste 309
Waukegan IL 60087

July $50 non-refundable fee

Aug - May
3 persons (550) 50.00 per month
2 persons (825) 77.50 per month
1 person (1650) 160.00 per month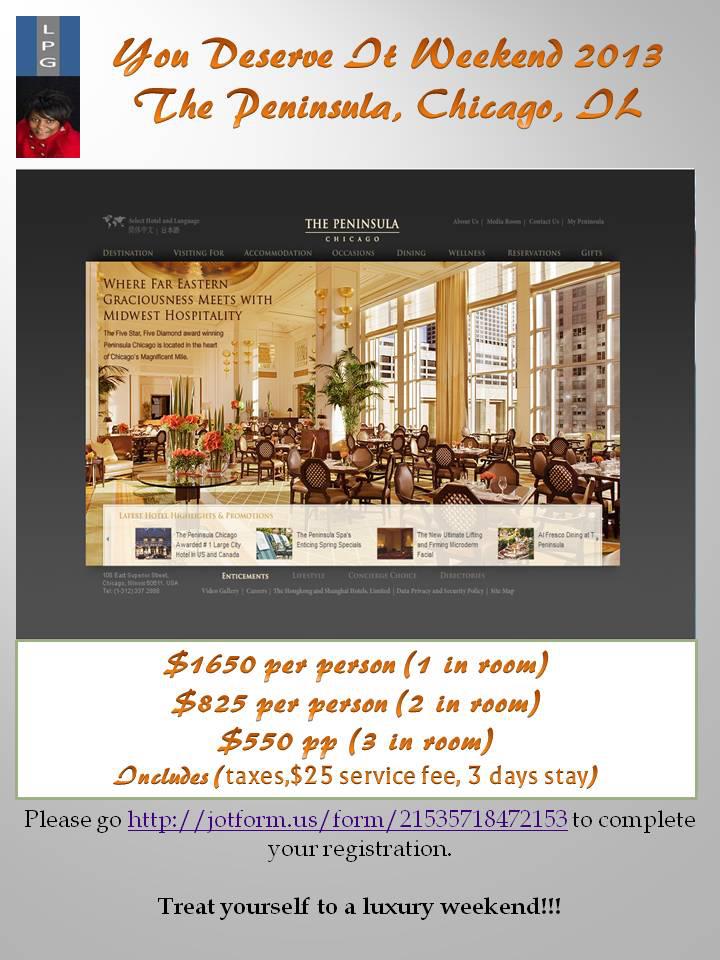 Organizer
Lifework Professionals Group
If you would like to invite LPG to hold a corporate or religious workshop at your company or event, please visit our facebook page.
Helping ordinary people with ordinary concerns
We hope you can find everything you need. Lifework Professionals is focused on providing high-quality service and customer satisfaction - we will do everything we can to meet your expectations.
Lifework Professionals is a unique company that provides human resources workshops, ministry workshops and lesuire services. We have qualified Associates in all areas with over 60 years of experience.
With a variety of offerings to choose from, we're sure you'll be happy working with us. If you have any comments or questions, please feel free to contact us.
You Deserve It Weekend 2013