You Deserve Great Things: A Free Event

Multiple Dates
Event Details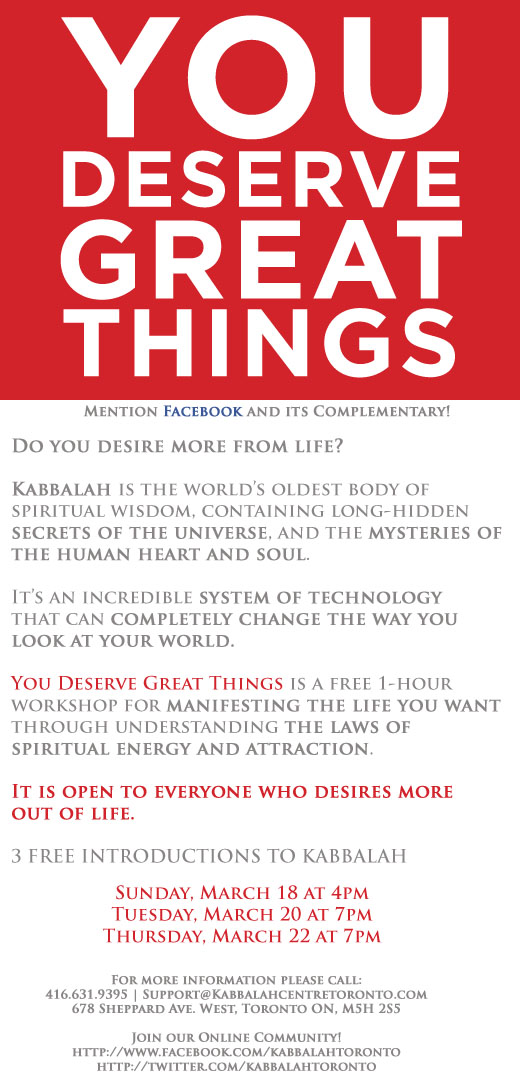 ---
Do you desire more from life?

Kabbalah is the world's oldest body of spiritual wisdom, containing long-hidden secrets of the universe, and the mysteries of the human heart and soul. It's an incredible system of technology that can completely change the way you look at your world.

You Deserve Great Things is a free 1-hour workshop for manifesting the life you want through understanding the laws of spiritual energy and attraction. It is open to everyone who desires more out of life.

3 FREE INTRODUCTIONS TO KABBALAH!

Sunday, March 18 at 4pm

Tuesday, March 20 at 7pm

Thursday, March 22 at 7pm 

For more information please call:
416.631.9395 | Support@Kabbalahcentretoronto.com
678 Sheppard Ave. West, Toronto ON, M5H 2S5

Join our Online Community!
http://www.facebook.com/kabbalahtoronto
http://twitter.com/kabbalahtoronto
Where

The Kabbalah Learning Centre
678 Sheppard Ave. W. Toronto
Toronto, Ontario M3H 3V8
Canada

Multiple Dates
Add to my calendar
Organizer
The Kabbalah Centre is a Worldwide Non-Profit organization that teaches an ancient yet entirely new paradigm for living.
We teach that all of the branches of our lives—health, relationships, business—emanate from the same trunk and the same root. It's the technology of how the universe works at the core level.
It's a whole new way of looking at the world that can connect you to the kind of permanent fulfillment you may be seeking!