You Can Sing! Vocal Performance Workshop 2017

Monday, March 13, 2017 from 9:00 AM to 4:00 PM
Event Details
You Can Sing! Vocal Performance Workshop
 Presented by Women in Jazz Association, Inc.
(for ages 7 to 18)
March 13, 2017
9:00 am - 4:00 pm
George Washington Carver Museum & Cultural Center
1165 Angelina Street, Austin, TX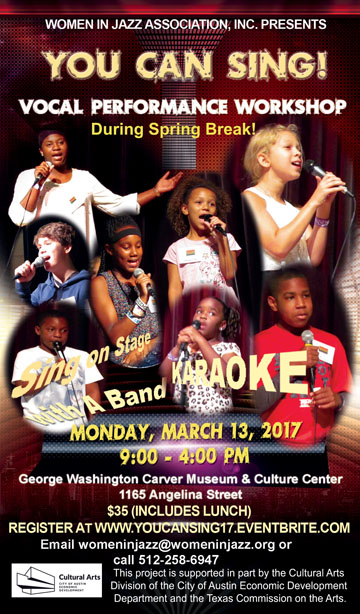 Agenda
8:00 - 9:00 am       Student Drop Off, Registration and Check-in

Instructors:  Pamela Hart and Candace DeClue
9:00 am         What is Singing? It's More Than the Voice

Participants will sing with a band - Piano, Bass and Drums
Discussion about the body, not just the voice, as a rhythm instrument, the form of a song (bar, bridge, tag, improvised ending), different rhythms, melody, and delivery. Demonstrations by Pamela Hart.  Lots of singing by participants.
 
Know the Code - Communicating with Musicians 
While you perform, you will need to communicate with musicians without talking.  We will show you how! Some demonstrations by Pamela Hart and participants
Song Structure, Key, Music Styles, Stage Presence, Coloring the Song, Posture – "What to Do with Your Hands"
Objective – By the end of this session, singers will understand the parts of the songs, music rhythms and styles, how to have better stage presence, and how to use different vocal qualities, audience rapport, and posture for better stage presence. They will also get tips on overcoming stage freight.
11:45 am        Lunch (provided)
12:30 pm        Phrasing, rhythm, vocal interpretation

Demonstration of singing on top of, in front or behind rhythm to enhance vocal interpretation of song by selecting various standards and giving students the opportunity to practice singing within the music as a lead instrument.  Participants perform group singing.
1:00 pm          Coaching with participants as they sing -- with Karaoke

Elements reviewed and demonstrated
3:00 pm         Participant Show Off Performance - They love to sing!

4:00 pm         Student Pickup
 Questions or special needs:  Call 512-258-6947 

Save This Event
When & Where

George Washington Carver Cultural Center
Classroom/Boyd Vance Theater
1165 Angelina Street
Austin, TX 78701


Monday, March 13, 2017 from 9:00 AM to 4:00 PM
Add to my calendar
Organizer
Women in Jazz Association, Inc
Non-profit, tax-exempt organization that raise funds by producing concerts and workshops. The purpose of Women in Jazz Association is to perpetuate the appreciation and performance of traditional jazz vocal and instrumental music. As vocal jazz is a declining art form, this purpose is charitable -- the protection and preservation of a valuable art form called jazz; that is, vocal jazz. It is through concerts, educational workshops, and performance opportunities of singers that provide the means to the end -- perpetuate vocal jazz music.
Contact:  512-258-6947
You Can Sing! Vocal Performance Workshop 2017