You Can Sing! Vocal Performance Camp

Tuesday, March 12, 2013 from 9:00 AM to 5:00 PM
Event Details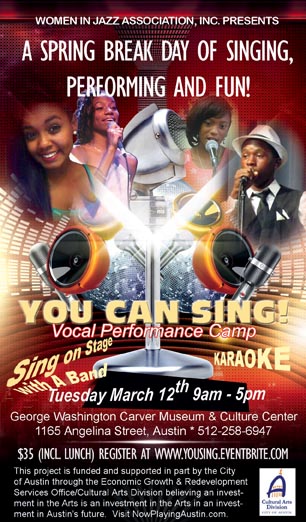 You Sing! Vocal Performance Camp
Presented by Women in Jazz Association, Inc.
(for ages 7 and up)
March 12, 2013
George Washington Carver Museum & Cultural Center
Agenda
8:00 – 9:00            Parent Drop Off, Registration and Check-in
9:00            What is Singing? Words, Rhythm, Melody, Message (Pamela Hart)
Discussion about the voice as a rhythm instrument, the form of a song (bar, bridge, tag, improvised ending), different rhythms, melody, and delivery.  Demonstrations by Pamela Hart
10:00            Know the Code - Communicating with Musicians (Dr. James Polk)
Objective – By the end of this session, singers will have the basic hand signals and language to use to clearly communicate with musicians.  Some demonstrations by Pamela Hart and participants
        Activity – Participants sing with the band with coaching from Pamela Hart.
Explain:  Parts of a song and signals to get there:  Top, Bridge, coda (tag), end
(index finger or top of head, nose, fist, circular wave, cut off/or hand down and hold, eye contact with soloist for coming back in)
10:30             Break
10:45             Song Structure, Key, Music Styles, Stage Presence, Coloring the Song, Posture – "What to Do with Your Hands"
Objective – By the end of this session, singers will understand the parts of the songs, music rhythms and styles, how to have better stage presence, and how to use different vocal qualities, audience rapport, and posture for better stage presence.  They will also get tips on overcoming stage freight.
Activity - Singers Select Songs they want to perform.  Write down tempo, determine the key, what will happen before they start singing, whether there's a solo, when they will come back in.  How the song will end.  How they will count off the tune.  If the song repeats, what will be different the second time?
12:00            Lunch (Provided) 
12:45            Phrasing, rhythm, vocal interpretation (Pamela Hart)
Demonstration of singing on top of, in front or behind rhythm to enhance vocal interpretation of song by selecting various standards and giving students the opportunity to practice singing within the music as a lead instrument.  Participants perform group singing.
1:30            Coaching with participants as they sing
                        Elements reviewed and demonstrated
2:00            Break (Snacks provided)
2:30            Singing and Performing with Karaoke – Paul Adams
                        With the advent of iTunes, singers are now carrying around tracks in their cell phones ready to sing at any time or place.  In this session, we focus on incorporating style and stage presence with singing with tracks!  Participants will let their hair down and have fun.
                        Pamela Hart will continue to coach during Karaoke singing.
 4:00            Concert by Participants/Certificates
5:00            Camp Ends
6:00            Final pickup time
Questions:  Call 512-258-6947 
When & Where

George Washington Carver Cultural Center
Classroom/Boyd Vance Theater
1165 Angelina Street
Austin, 78701


Tuesday, March 12, 2013 from 9:00 AM to 5:00 PM
Add to my calendar
You Can Sing! Vocal Performance Camp